Welcome to my review of the best helmets for dirt bikes, specifically tailored for motocross enthusiasts, in 2023. When it comes to off-road riding, a high-quality dirt bike helmet is one of the most crucial investments you can make. As a fellow rider, I understand the exhilaration and freedom of tearing through muddy tracks and conquering challenging terrains. However, it's essential to remember that safety should always be our top priority, and selecting the right helmet plays a pivotal role in protecting ourselves during those adrenaline-fueled rides!
I've experienced firsthand how a top-notch helmet can provide both peace of mind and optimal protection. With the rapidly advancing technology in the motocross industry, manufacturers have been pushing the boundaries of helmet design to meet the evolving needs of riders like us. Today, I explore the top five best dirt bike helmets that have stood out from the crowd in 2023, incorporating cutting-edge materials, innovative features, and impeccable craftsmanship.
Our pick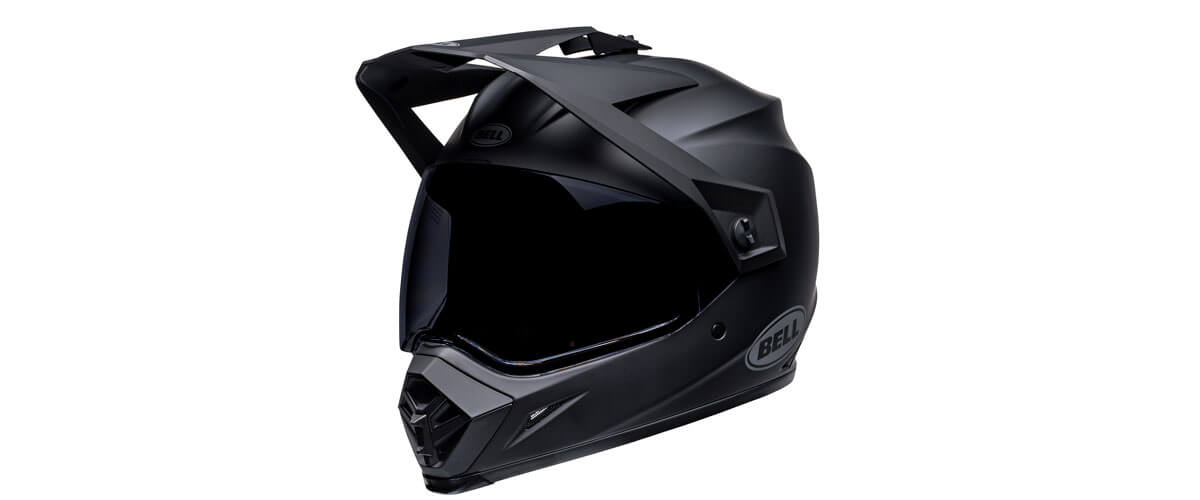 Bell MX-9 Mips
Best dirt bike helmet
The Bell MX-9 Mips Helmet has Bell's Velocity-Flow ventilation system and is made from a lightweight polycarbonate shell to keep you comfortable and safe on the road.
Read the full review
.
Best dirt bike helmet reviews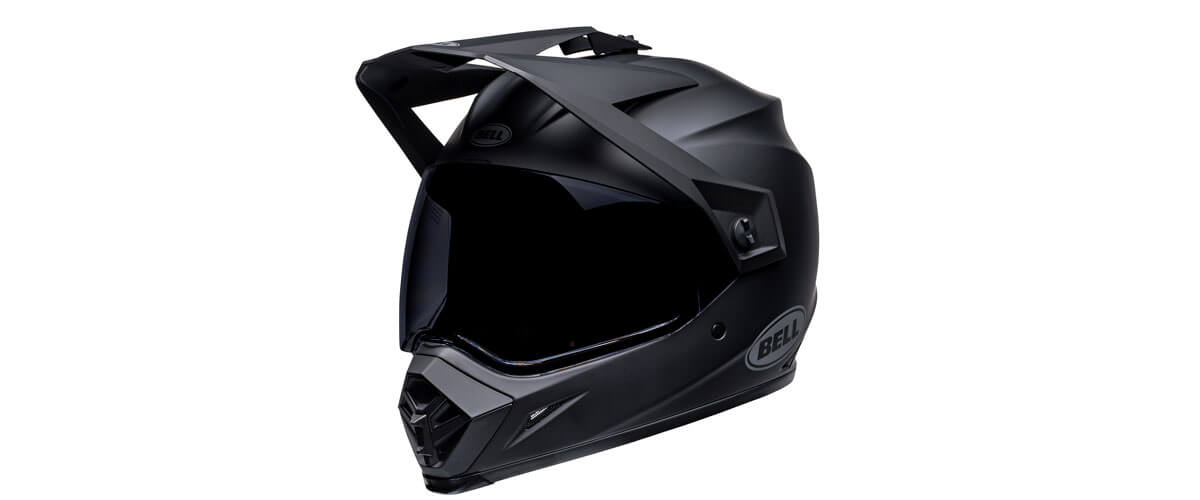 As a rider who has experienced the thrills and spills of off-road riding, I can assure you that the Bell MX-9 Mips is a game-changer regarding style and safety. Let's start with the first thing that catches the eye—the materials and design of the helmet shell. The Bell MX-9 MIPS features a lightweight but durable polycarbonate shell. I confidently maneuvered through treacherous tracks, knowing that a robust, impact-resistant outer layer protected my head.
The face shield and visor of the MX-9 MIPS excel in face protection. The adjustable visor not only shields the eyes from harsh sunlight and flying dirt but also adds a touch of personal style to your riding gear. Additionally, it provides excellent optical clarity, ensuring maximum focus on the track ahead.
The MX-9 MIPS features a comfortable, moisture-wicking liner that keeps one cool, dry, and focused during those crazy-adrenaline rides. Indeed, it is washable and removable for hygiene purposes. The interior design also incorporates EPS foam, which acts as a shock absorber, enhancing the helmet's impact protection capabilities.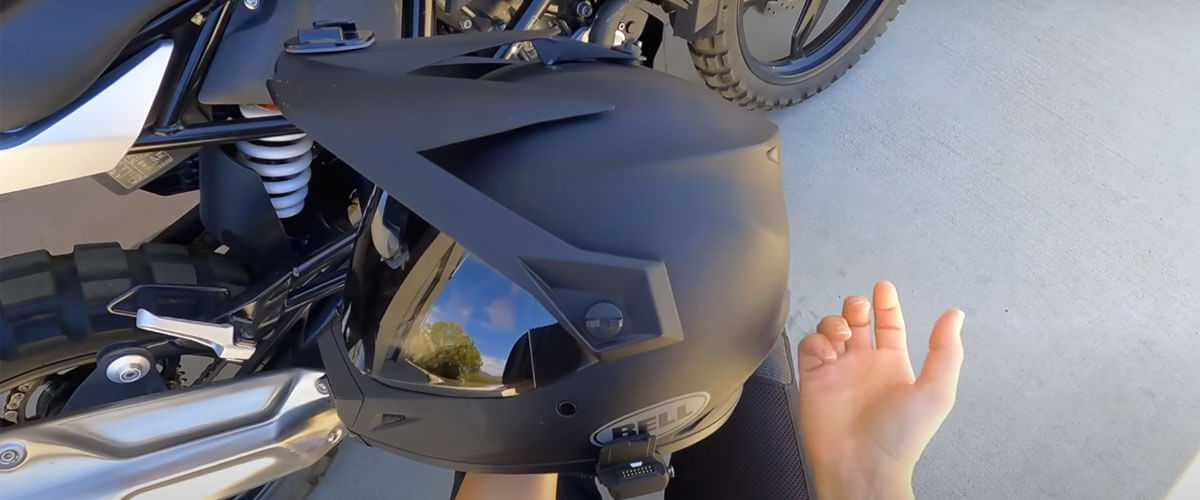 Talking about comfort, with an advanced Velocity Flow Ventilation system, this helmet ensures ample airflow, preventing overheating. It kept me cool and comfortable even during the most grueling rides.
The MX-9 incorporates MIPS technology, which adds an extra layer of defense. This innovative feature reduces the risk of brain injuries by redirecting rotational forces away from the head. The Bell MX-9 MIPS meets the stringent safety standards set by DOT and ECE.
Finally, the helmet boasts compatibility with various Bluetooth communication systems. So, I quickly integrated several communication devices for rider-to-rider communication, music streaming, and GPS navigation. The MX-9 MIPS, in its M-size variant, weighs around 3.4 lbs, making it one of the lightest helmets in its class.
From my experience, the MX-9 MIPS delivers on its promises, providing optimal protection while keeping you comfortable and cool. The Bell MX-9 MIPS is the best dirt biking helmet, as it offers an unbeatable combination of style, comfort, and safety. With its durable shell, advanced ventilation, MIPS technology, and additional features like Bluetooth integration, this helmet is a reliable companion for any motocross enthusiast.
Key specs
Head shape: intermediate oval.
Safety certification: DOT, ECE.
Shell sizes: XS-SM, MD-LG, XL-2XL.
Shell material: polycarbonate.
Weight, kg/lbs: 1.4/3.3.
Pros
The face shield ensures a clear view with no distortion.
The MIPS Energy Management technology enhances safety.
You can use goggles even when the shield is down.
Cons
The bevel used to open the face shield can be annoying as it obstructs the line of sight.
Shoei VFX-EVO – premium
Are you ready to experience the pinnacle of premium off-road helmet technology? Look no further than the Shoei VFX-EVO. I always seek the perfect blend of style, comfort, and safety. So, now (after thorough testing), I can attest to the exceptional qualities this helmet brings to the table.
The Shoei VFX-EVO is meticulously crafted using an advanced AIM+ shell construction. This blend of organic and multi-composite fibers results in a lightweight (3lbs 8.4oz) yet incredibly strong shell. From my experience, this combination provides outstanding impact absorption while maintaining optimal rigidity.
The face shield offers a wide field of vision and maintains superb optical clarity equal to Bell MX-9 Mips Additionally. The visor is adjustable, and I had no problems customizing it to the changing riding conditions. If you share my passion for goggles or want to ride with the shield down, the Shoei VFX-EVO accommodates your choices without compromising safety or comfort.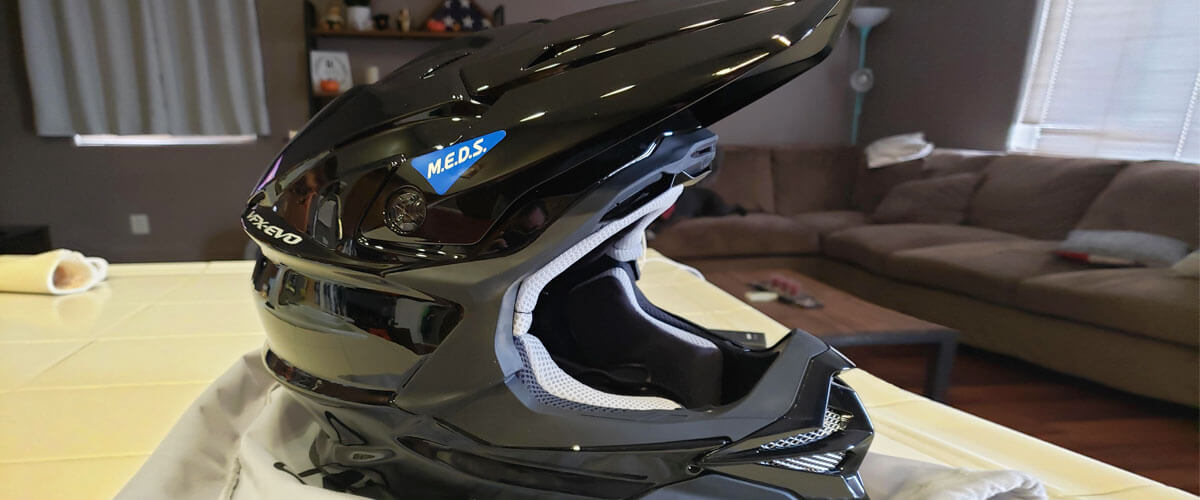 Regarding the interior, the Shoei VFX-EVO excels in providing a comfortable and plush experience. The liner is constructed with Max-Dry and multi-density EPS foam, creating a snug yet breathable environment. Furthermore, the liner does an excellent job of wicking away moisture.
The plush interior enhances comfort and absorbs and disperses impact forces, augmenting the helmet's protective capabilities. From long rides to adrenaline-fueled races, the VFX-EVO kept me comfortable and focused, allowing me to fully immerse myself in the thrill of off-road riding.
Ventilation is critical to any helmet, and the VFX-EVO doesn't disappoint. The helmet features an advanced ventilation system, witty placed intake and exhaust vents that optimize airflow and regulate the temperature inside the helmet. The Shoei VFX-EVO is designed to provide superior protection and meets the DOT and SNELL M2020 standards.
Despite the manufacturer not mentioning that the helmet supports Bluetooth integration, I still managed to use it with Sena 5S with no problems. Yet, the installation may be tricky when done the first time.
In conclusion, this model sets a new standard for premium off-road helmets. With the Shoei VFX-EVO, you can ride with the confidence of knowing that your head is shielded by one of the industry's most trusted and reputable helmets. Considering that I have the Bell MX-9 Mips in the review, I can't say that Shoei VFX-EVO is a clear frontrunner in my review, but it is definitely worth its premium position on the market.
Key specs
Head shape: intermediate oval.
Safety certification: DOT, Snell M2015.
Shell sizes: XS-SM, MD-LG, XL-2XL.
Shell material: advanced integrated matrix plus (AIM+) high performance fibers with organic fibers.
Weight, kg/lbs: 1.5/3.5.
Pros
Achieves a remarkable balance of durability and lightweight design through the incorporation of organic and multi-composite materials.
Has a clear line of sight and a flexible adjustable visor.
The well-placed intake and exhaust vents optimize airflow keeping comfortable temperatures.
Cons
Doesn't offer official support for Bluetooth connection.
Becomes unpleasantly noisy at high speeds.
O'Neal 3SRS – also great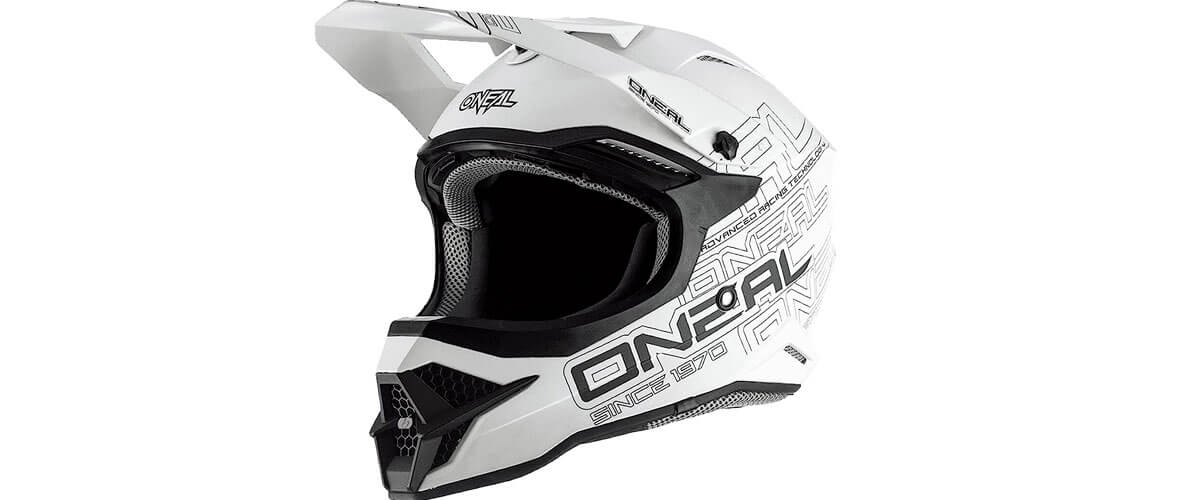 My next guest also combines good performance, comfort, and style. The O'Neal 3SRS is precision manufactured using a high-quality polycarbonate shell. It really provides solid protection while still allowing you to move freely and comfortably on the trails. Well, the cherry on the cake is the weight of this model. It is surprisingly lightweight and weighs less than 3 kg (size M).
The face shield and visor do an exceptional job of shielding eyes from flying debris and harsh sunlight. The helmet provides outstanding optical clarity, and an adjustable visor significantly adds versatility and user comfort. In turn, the inner liner of the O'Neal 3SRS excels in delivering a plush and cozy experience.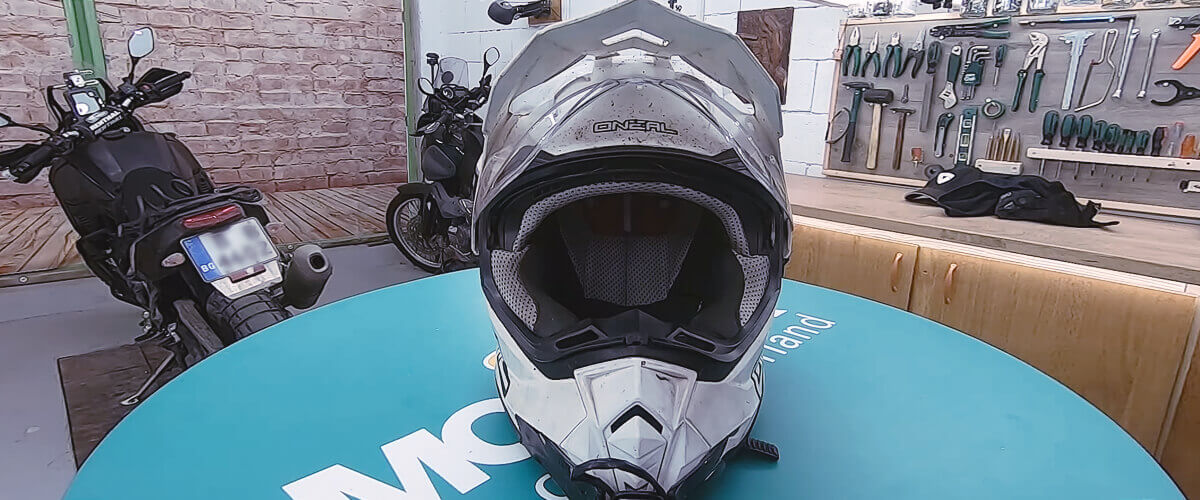 The snug fit and soft interior padding offer a comfortable and secure feeling. This, combined with a removable and washable liner, adds great user experience and confidence for riding with this helmet. Temperature is another vital aspect, as an efficient ventilation system keeps one cool and focused, even during hot and demanding rides.
The O'Neal 3SRS design allows convenient integration with various aftermarket Bluetooth communication systems. I used it for rider-to-rider communication, music streaming, and even GPS navigation.
Summarizing the results, the O'Neal 3SRS is a reliable and feature-packed helmet that delivers on both performance and style. Its durable shell, clear visor, comfortable interior, efficient ventilation, and safety certifications provide the protection and confidence one needs on the trails. This all makes this model one of the coolest dirt bike helmets.
Key specs
Head shape: intermediate oval.
Safety certification: DOT, ECE 22-05, AS/NZS.
Shell sizes: XS-SM, MD-LG, XL-3XL.
Shell material: polycarbonate.
Weight, kg/lbs: 1.3/2.9.
Pros
Very comfortable and fits well on different head shapes.
Convenient and seamless integrations with external Bluetooth connection devices.
Efficient ventilation, even at low speeds.
Cons
Lacks speaker pockets.
Adjustable visor sometimes makes noises when adjusting.
Fox Racing V1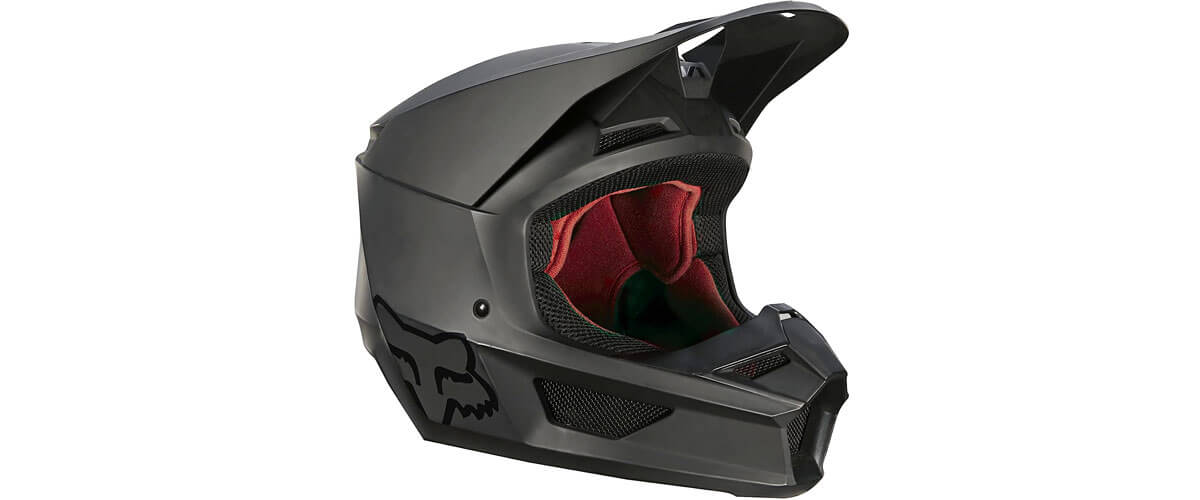 Are you ready to take your off-road adventures to the next level? Then, I can assure you that the Fox Racing V1 is built to exceed your expectations.
Let's begin with the foundation of any reliable helmet — the materials and design of the shell. The Fox Racing V1 is crafted precisely using a high-quality injection-molded polycarbonate shell. This lightweight (3lbs for an M-sized model) and durable material provided me with optimal comfort and security when riding (The helmet meets DOT and ECE standards).
Talking about comfort, while you can feel the effect of the ventilation system, its design is not well-thought-out as in the previous models. You see, the helmet keeps you cool at medium speeds and medium active riding, but when you start riding slowly during hot summer days or go on to the parts of the route where you can crank the accelerator – you will start feeling hot, or riding will become too noisy correspondingly.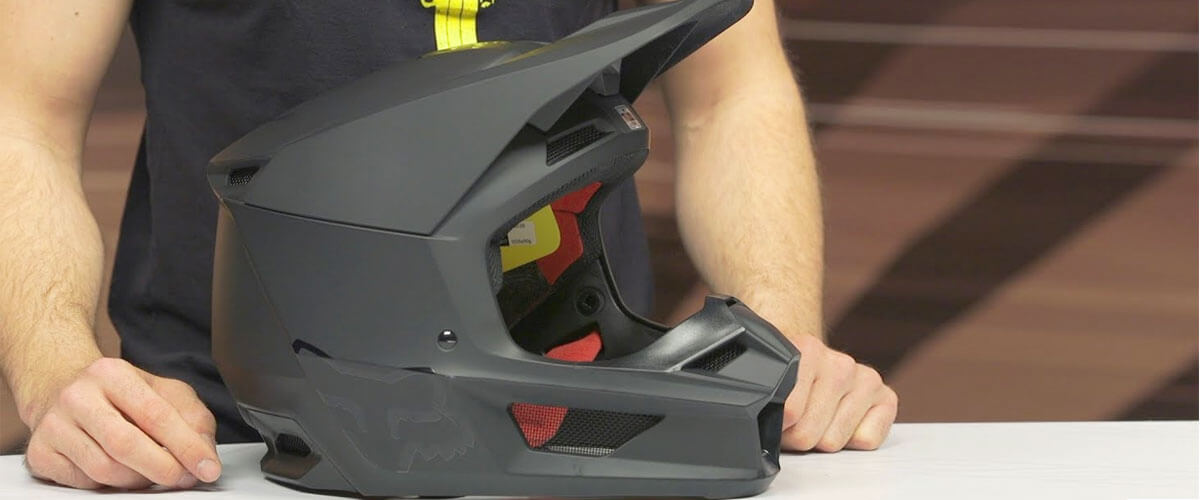 Regarding face protection, the Fox Racing V1 excels with its face shield and visor. The face shield allows for a wide field of vision and good quality. The manufacturer also promises to deliver UV protection, but I felt little of its work. At the same time, the visor remained clean and glare-free when I pushed my limits during rides, which was an excellent result. Whether battling the sun's glare or navigating challenging terrain, the V1 keeps your vision clear and unobstructed.
The Fox Racing V1 internal built provides everything one needs to enjoy riding. The soft and breathable interior padding enhances overall comfort, ensuring a snug and secure fit.
In conclusion, the Fox Racing V1 helmet is a reliable companion that efficiently combines performance, style, and safety. Indeed, it has its few drawbacks, but who doesn't? Overall, this is a very quality helmet.
Key specs
Head shape: intermediate oval.
Safety certification: DOT, ECE 22-05.
Shell sizes: XS-SM, MD-LG, XL-3XL.
Shell material: polycarbonate, ABS.
Weight, kg/lbs: 1.4/3.2.
Pros
The injection-molded polycarbonate shell provides a lightweight build while meeting DOT and ECE standards.
The face shield enables a broad and unobstructed view, ensuring excellent visibility without any glare.
The interior padding, which is both soft and breathable, enhances comfort and guarantees a snug fit.
Cons
The ventilation system struggles to perform optimally under certain conditions.
The effectiveness of UV protection provided by the face shield isn't highly noticeable.
Alpinestars SM5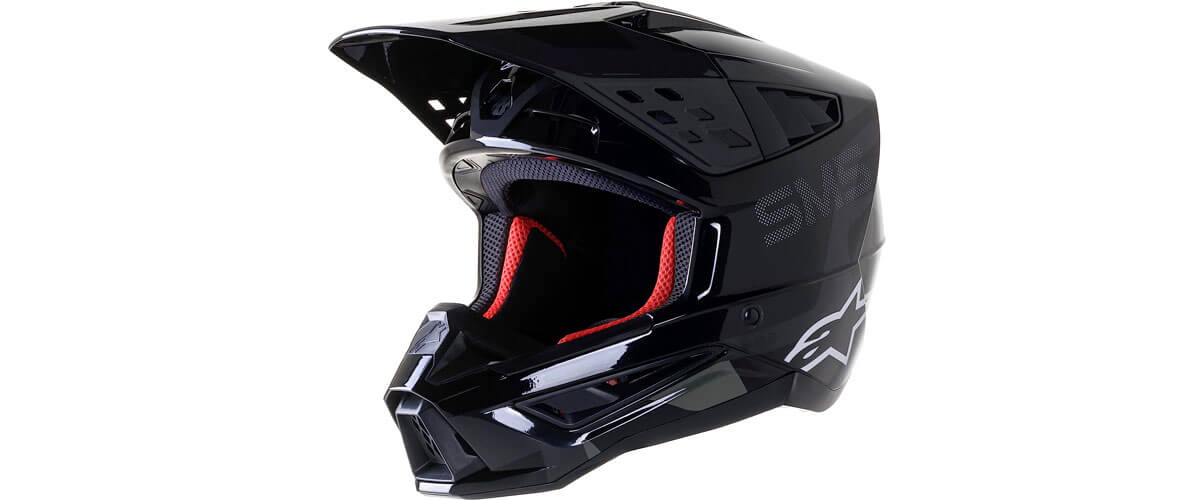 Have you ever felt you could get far more for the same money? That's the feeling I always try to fight when buying a new bike or even a helmet. And that's something that I didn't feel with the Alpinestars SM5.
After testing this model, I can attest that the SM5 shell provides outstanding resistance to impacts, instilling confidence as I ride, knowing that my head is safeguarded by nothing less than the finest protection. The Alpinestars SM5 proudly boasts a lightweight and resilient carbon fiber shell construction.
During one of my off-road adventures, I found myself traversing a rugged trail under the scorching sun. The intense sunlight made it challenging to maintain clear visibility, but the Alpinestars SM5 made sure I was put for riding with pleasure. I quickly adjusted the visor to shield my eyes from the glaring sunlight, and to my delight, it made a world of difference.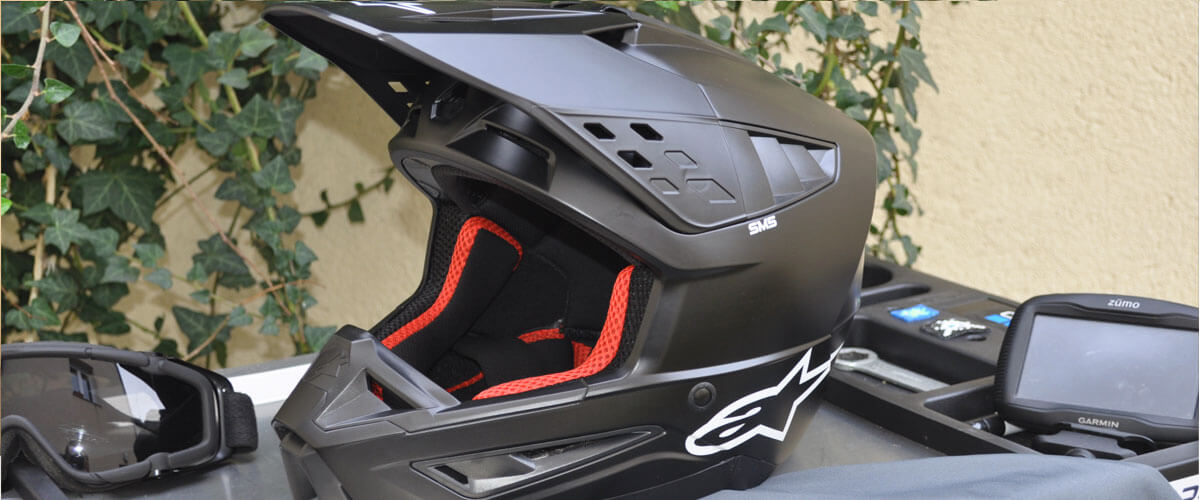 Apart from doing a good job of protecting me from incoming debris, the helmet is also pretty comfortable. The plush and supple interior padding of the SM5 added another layer of comfort, cradling my head in a cushion of softness. As I have said before, it also works well for shock absorption, but after the Shoei VFX-EVO spoiled me with its premium quality, the Alpinestars SM5 pales in terms of the quality of materials.
Touching the ventilation, I can neither praise nor blame it as it gets the job done with no apparent flaws or benefits. The airflow is stable regardless of speed, and I always had enough air to feel cool and refreshed. The same goes for meeting DOT and ECE standards — all the helmets in my today's review meet those. Also, the SM5 exhibits potential for integration with aftermarket Bluetooth communication systems, facilitating rider-to-rider communication, music streaming, and GPS navigation.
In conclusion, the Alpinestars SM5 helmet shows quality results. It's imperfect, but I enjoy riding my dirt bike in this helmet. I feel confident, safe, and comfortable enough to do it with pleasure and enjoy my time.
Key specs
Head shape: intermediate oval.
Safety certification: DOT.
Shell sizes: XS-SM, MD-LG, XL-2XL.
Shell material: advanced impact resistant thermoplastic.
Weight, kg/lbs: 1.4/3.2.
Pros
Feels sturdy during rides, brings the feeling of safety.
Well-designed aerodynamics minimizes wind resistance.
Cons
While the helmet is comfortable, the quality of materials leaves much to be desired.
How to choose the best helmets for dirt bikes?
As an experienced dirt bike enthusiast, I understand the importance of finding the perfect helmet. It's not just a fashion accessory; it's your shield against potential risks on the trail. That is why I'll share my insights on how to choose the best helmet for dirt bikes. Let's dive in!
Safety standards. When selecting the best motocross helmets, prioritize safety above all else. Look for certifications like DOT, Snell, ECE, and ASTM, as they ensure the helmet meets rigorous safety standards. They guarantee that the headwear model has undergone extensive testing to ensure its quality and protective capabilities. Always opt for helmets that comply with recognized safety standards.
Fit, weight, and comfort. To determine your head size accurately, measure the circumference just above your eyebrows. Refer to manufacturer size charts to choose the right helmet size accordingly. When trying on helmets, ensure they fit snugly without any pressure points. The safest dirt bike helmet should stay securely in place, even during intense rides.
Lightweight design. Consider the weight of the headgear, as it directly affects your comfort and reduces neck fatigue on long rides. To choose the lightest motocross helmet, look for a balance between weight and protection, ensuring the helmet meets safety standards while being lightweight.
Shell material and construction. Helmets for motocross are constructed using various materials such as fiberglass, polycarbonate, carbon fiber, or a combination. After using all of the options, I realized that each material has advantages and disadvantages. Think about the type of riding you do and your budget when choosing the helmet shell material. Also, you can check the list of my favorite carbon fiber motorcycle helmet.
Impact absorption and energy management. The inner liner material, typically made of EPS (expanded polystyrene), plays a key role in absorbing and distributing impact energy during a crash. Some helmets feature multiple-density liners or advanced energy management systems for enhanced protection.
Ventilation system. Proper airflow is vital for comfort during intense rides. I recommend looking for helmets with a well-designed ventilation system, including intake and exhaust vents. They will keep you cool and focused throughout your adventures.
Visor design and functionality. The visor protects your eyes from sun glare, debris, and roost. I always opt for helmets with adjustable visors, allowing me to customize the position based on the riding conditions. Additionally, adjustable visors accommodate goggles comfortably, ensuring optimal visibility and eye protection.
Additional features. Look for helmets with removable liners for easy cleaning and maintenance. Some helmets feature an emergency cheek pad release system, allowing quick and safe removal in case of an accident. Take a look at models that are compatible with communication systems if you often ride in groups or use GPS devices.
By paying attention to these factors, you can make an informed decision and buy the best mx helmet. Stay safe out there, and have a fantastic dirt bike adventure!.
FAQ
What makes a dirt bike helmet different from a regular motorcycle helmet?
Dirt bike helmets are specifically designed for off-road riding and differ from regular motorcycle helmets in a few ways. Dirt bike helmets have a distinct shape with a pronounced chin bar and an extended visor to protect against roost, debris, and sun glare. They also feature enhanced ventilation systems to keep riders cool during intense off-road activities. Additionally, dirt bike helmets are typically lighter in weight to reduce neck fatigue.
Can I use a street motorcycle helmet for dirt bike riding?
While I personally do not recommend it, you can technically use a street motorcycle helmet for dirt bike riding. However, keep in mind that street helmets are not optimized for off-road conditions. They may lack the necessary protection against roost, debris, and sun glare, and their ventilation systems may not be as effective during rigorous off-road riding. For maximum safety and comfort, it's better to invest in a helmet specifically designed for dirt bike riding.
Are expensive helmets always better than more affordable options?
Price alone is not a definitive indicator of a helmet's quality or level of protection. Both expensive and more affordable helmets can meet safety standards and offer adequate protection. Expensive helmets often come with additional features, such as advanced ventilation systems, lightweight construction, or customizable options. However, affordable helmets can still provide excellent protection without breaking the bank. The key is to prioritize safety certifications, proper fit, and essential features when choosing a helmet, regardless of its price tag.