Motorcycle riding offers an exhilarating sense of freedom but requires the right gear for safety and comfort, especially for newcomers. Selecting the best motorcycle helmets for beginners can be overwhelming, with a myriad of choices in the market. However, finding that perfect helmet isn't just about style; it's about finding a synergy of comfort, protection, and ease of use!
I remember my first ride vividly. Just like a kid who was handed a new toy, I was filled with excitement, along with a twinge of nervousness. I stared at my first helmet – an entry-level model that seemed to weigh as much as a small boulder. Little did I know, this helmet, while not perfect, would become my first step towards understanding the essential role of helmets in the biking world. The experience shaped my knowledge, helping me distinguish between different helmets and ultimately aiding others to make informed decisions.
Our pick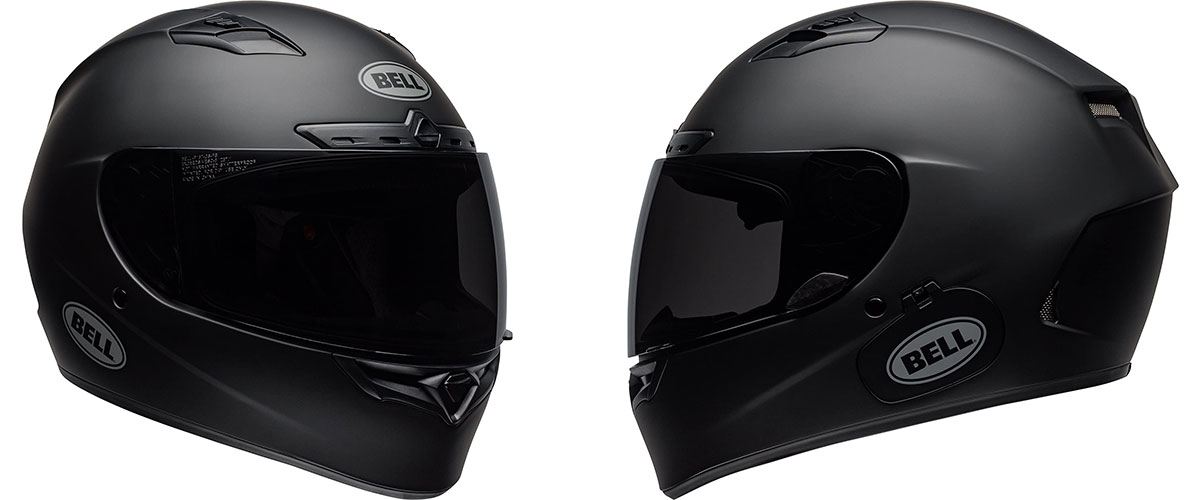 Bell Qualifier DLX MIPS
Best motorcycle helmet for beginners
The Bell Qualifier DLX Mips Helmet comes jam-packed with great features and includes the lightweight polycarbonate transitions adaptive face shield.
Read the full review
.
Best motorcycle helmets for beginners reviews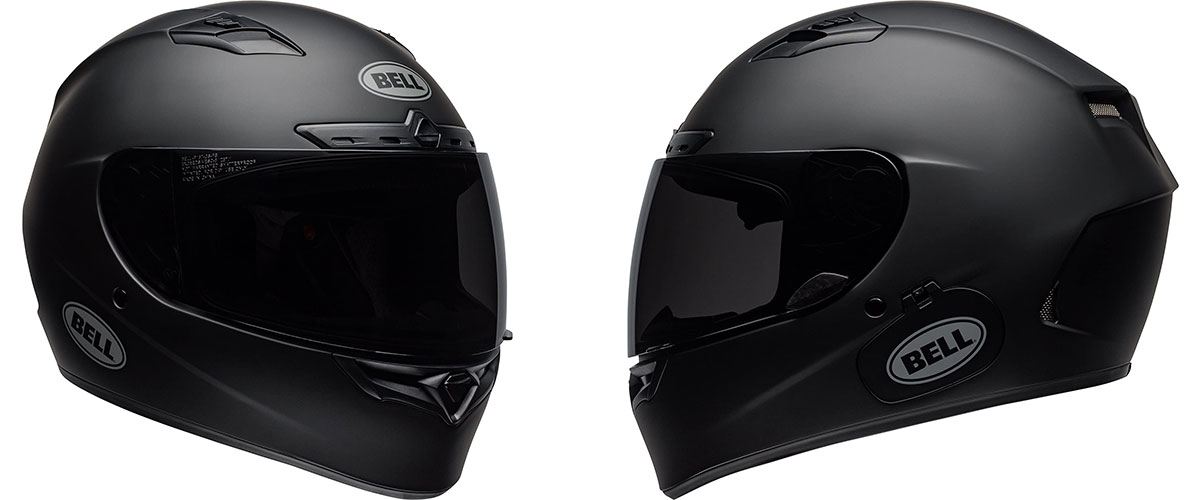 Bell Qualifier DLX MIPS is a dependable buddy ready to take you on your first ride – not too flashy, but you know you can count on it when the rubber hits the road.
First off, the lid's build quality is rock-solid. Constructed with a lightweight Polycarbonate/ABS shell, it doesn't weigh down on your noggin during those long rides. This makes the transition to helmet-wearing smoother for newbies – no more feeling like a bobblehead on your bike!
Another standout feature is the Velocity Flow ventilation system. Trust me, nothing ruins a ride faster than a hot, sweaty helmet on a sun-soaked day. This smart vent system keeps the air flowing, ensuring you stay cool even when the heat is on.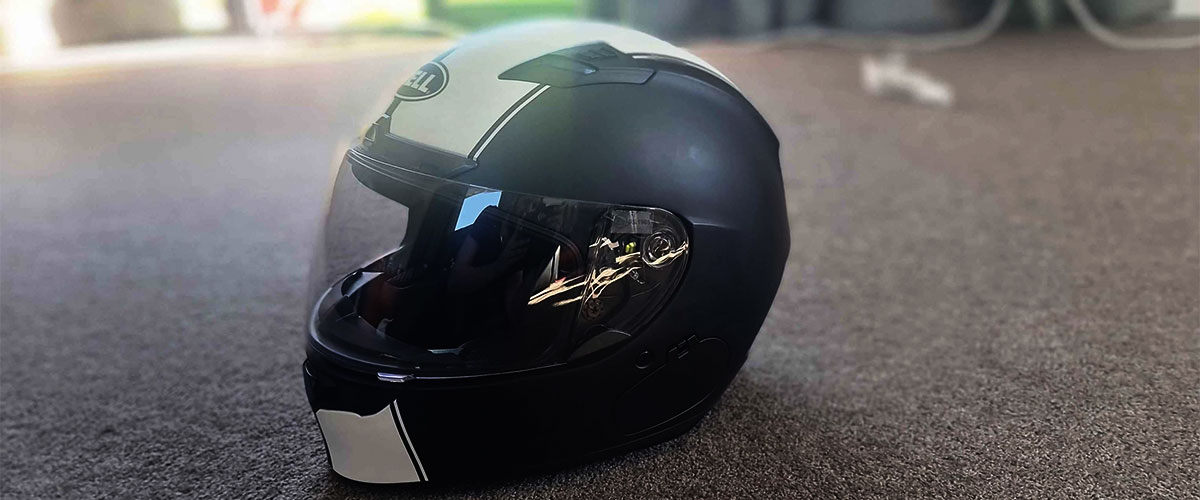 Now let's talk about the photochromic adaptive click release shield. For beginners, adjusting to changing light conditions can be daunting. But with this shield, the ride becomes less stressful – it's like having sunglasses built into your helmet, adapting as you switch from bright sunlight to shaded roads.
When you compare this model to the Shoei RF-SR, the two serve different types of riders. The Shoei is the kind of helmet you graduate to – the one you get when you've been bitten by the biking bug and know you're in it for the long haul. It's got top-notch features, advanced tech, and all that jazz. But for someone just kickstarting their journey, the DLX MIPS does the trick – it's robust, comfortable, and makes your ride as breezy as possible without breaking the bank.
In a nutshell, the Bell Qualifier DLX MIPS is the overall best beginner motorcycle helmet, offering a killing combination of safety, comfort, adaptability, and reasonable price. No fancy bells and whistles, just the essentials done right.
Key specs
Head shape: intermediate oval.
Safety certification: DOT, ECE.
Shell sizes: XS-SM, MD-LG, XL-2XL.
Shell material: polycarbonate.
Weight, kg/lbs: 1.6/3.5.
Pros
Excellent aesthetic with a good paint job.
The large viewing area and clear and distortion-free auto-tint visor.
Equipped with MIPS (Multi-directional Impact Protection System), providing reassurance regarding safety.
Minimal wind noise and effective venting.
Great balance between protection and budget.
Cons
Tends to be a bit noisy at higher speeds.
Requires purchasing a size larger than usual for a proper fit.
Shoei RF-SR – also great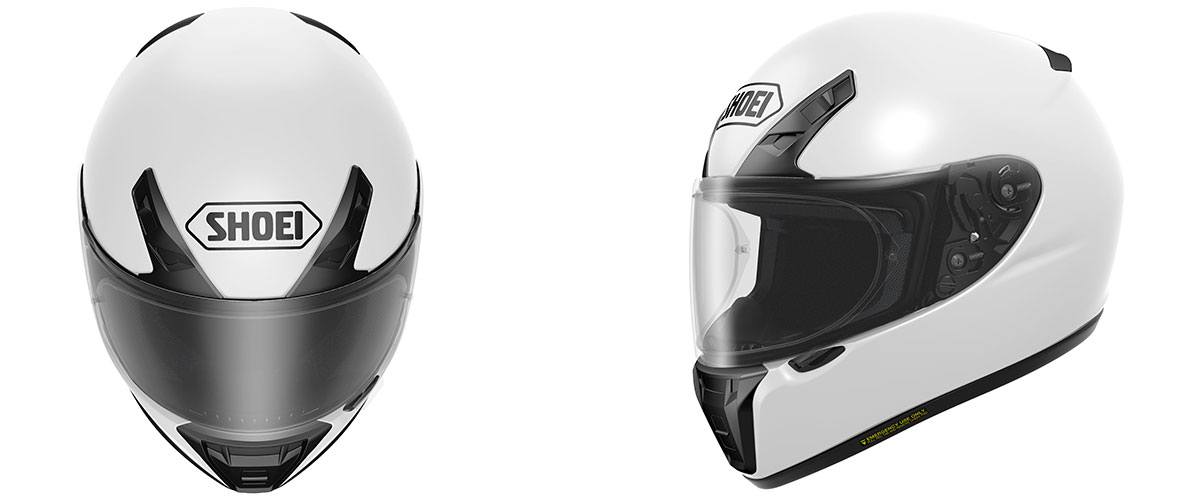 Strap on the Shoei RF-SR, and you'll quickly see why it's considered one of the best beginner motorcycle helmets. This lid is like a reliable old friend who's always got your back.
The helmet is handmade in Japan with the same dedication and craftsmanship that went into their first helmet back in 1959. The quality is palpable! You can feel it in the snug, comfortable fit and even in the finish. This baby is built to last, like a steady iron horse.
The aerodynamic shell design is where the RF-SR shines. Imagine cutting through the wind like a hot knife through butter – that's what this design offers. Less wind resistance and noise mean a more enjoyable and focused ride, something every beginner can appreciate.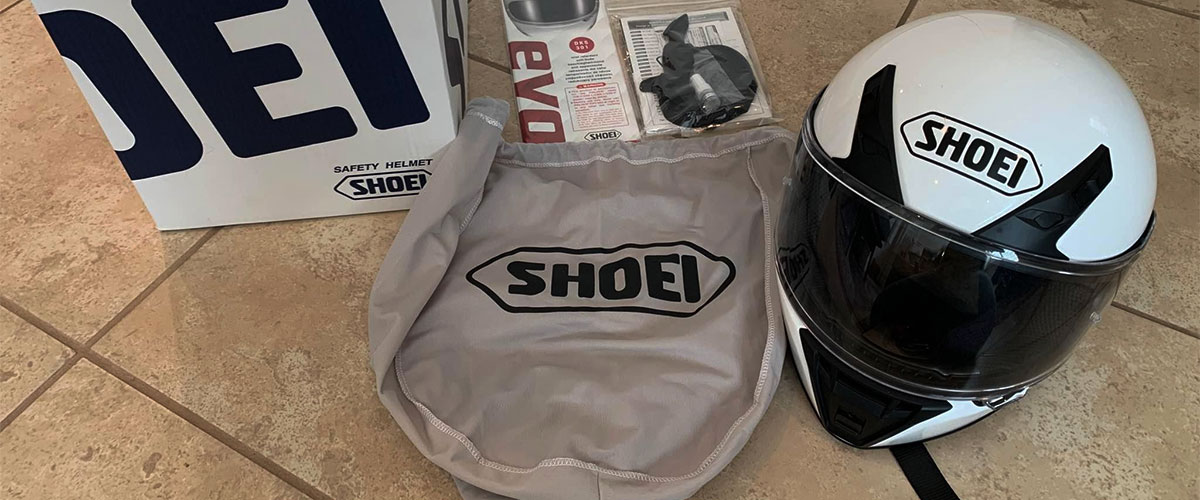 Then there's the dual-layer multi-density EPS liner, the heart of this helmet. It's not just about absorbing impact, but it also promotes ventilation. You might wonder, "Why should I care about some fancy EPS liner?" Well, it's simple. Picture riding on a hot summer day with a helmet that feels like an oven on your head – not fun, right? This liner makes sure that doesn't happen.
One limitation you'll run into is the price – a bit steeper than other beginner options. However, this isn't just a helmet. It's a long-term investment in your riding experience. And as the old biker saying goes, "If you've got a ten-dollar head, buy a ten-dollar helmet."
To sum it up, the Shoei RF-SR is a trusty companion for new riders committed to the long haul. It's a little more investment, but you're getting top-notch design and comfort that grows with you.
Key specs
Head shape: intermediate oval.
Safety certification: DOT, SNELL M2020.
Shell sizes: XS-SM, MD-LG, XL-2XL.
Shell material: polycarbonate.
Weight, kg/lbs: 1.7/3.6.
Pros
High-quality feel and finish.
Exceptionally quiet, allowing easy radio/communications unit use even at higher speeds.
Excellent airflow due to effective top vents.
Accommodates glasses well, making it suitable for riders who wear spectacles.
Detachable and replaceable inner padding for ease of maintenance and cleaning.
Cons
The padding might require slight improvement for even better comfort.
Some users found wearing a special cap or similar covering necessary to avoid discomfort when removing the helmet.
Scorpion EXO-AT950 – modular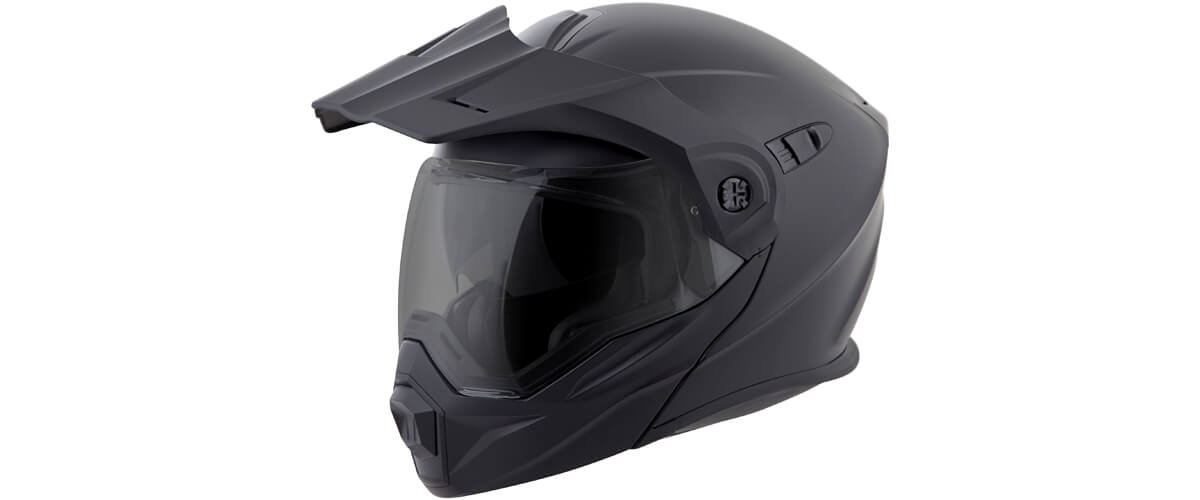 The EXO-AT950 ticks off some incredible versatility. Whether tearing up dirt trails or cruising down the interstate, this modular helmet has got you covered. I love its removable peak visor that gives the liberty to transform it from a full-face ADV helmet to a sleek touring accessory. Moreover, the oversized eye port on this lid is a real game-changer – your field of view expands, letting you spot that buddy trying to overtake or that sneaky pothole down the road. But the fun doesn't stop there! If you need to refuel or gab about the route, simply flip up the chin bar without going through the fuss of removing the whole helmet.
Riding from dawn to dusk? No sweat, literally! The internal drop-down SpeedView sun visor paired with the KwikWick II liner ensures your head stays comfy and sweat-free all day long. Plus, the EverClear shield can be popped off in a jiffy, converting this beast into a dirt helmet for those off-road escapades.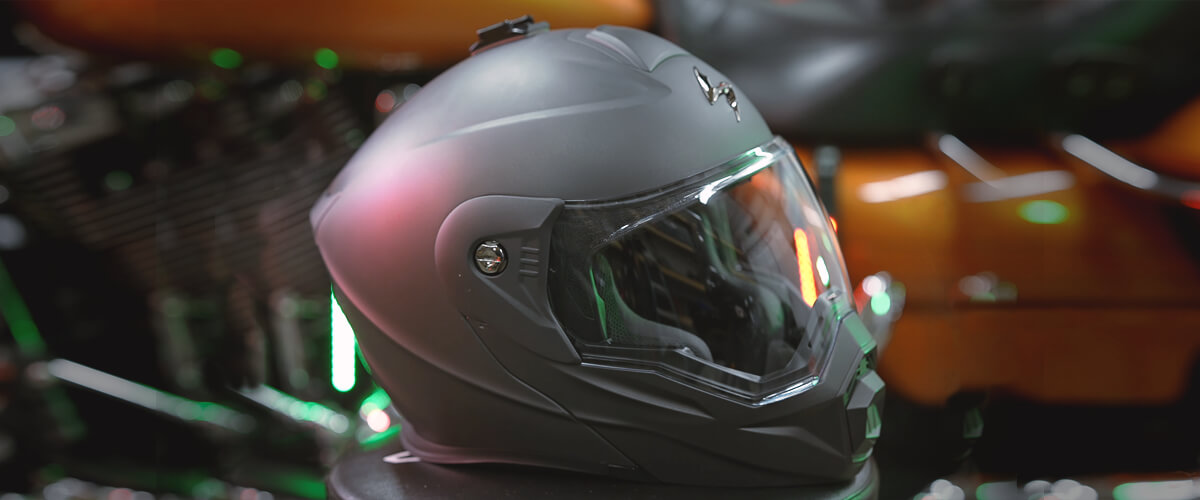 Now, the modular design might let in a tad more wind noise compared to a full-face helmet, but nothing a pair of earplugs can't fix, right? Remember, this isn't a premium helmet, but for rookies revving their engines, this model packs quite a punch.
Wrapping up, the Scorpion EXO-AT950 is a gear that novice riders can truly bank on. Versatile, practical, and big on vision, it's a real steal. Take it off-road, or keep it on the streets – this helmet adapts as you evolve.
Key specs
Head shape: intermediate oval.
Safety certification: DOT.
Shell sizes: XS-SM, MD, LG, XL-3XL.
Shell material: polycarbonate.
Weight, kg/lbs: 1.8/3.7.
Pros
Versatile with adjustable components for different riding scenarios.
Wide eye port for enhanced peripheral and downward vision.
Comfortable for all-day use.
Can be used off-road with goggles once the EverClear shield is removed.
Cons
A modular design might not provide the same level of protection as a full-face helmet.
Modular nature makes it loud.
Bell MX-9 Adventure MIPS – dual-sport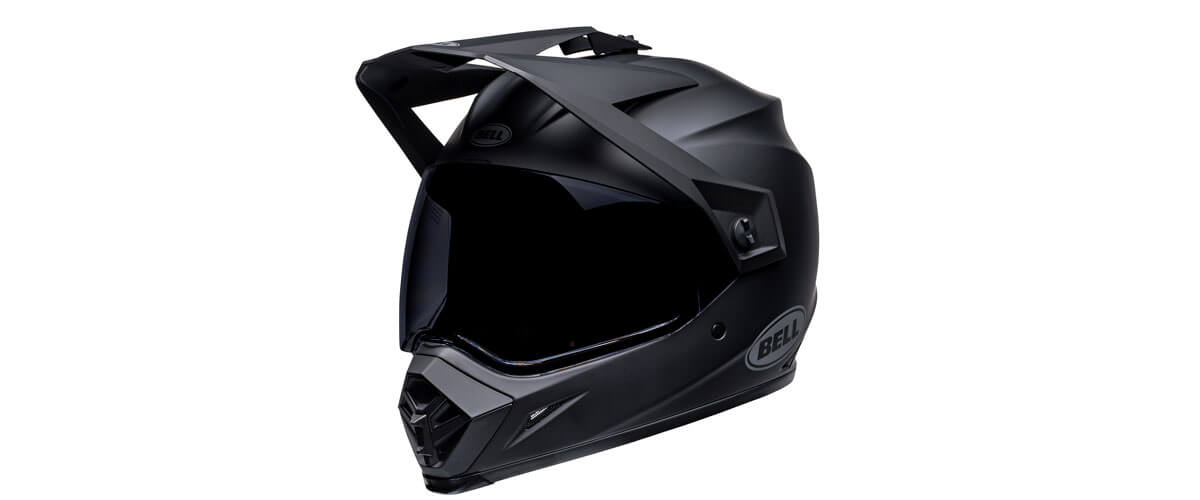 Ready to tackle both city streets and untamed trails? The Bell MX-9 Adventure MIPS is your ticket to ride.
This lightweight helmet combines polycarbonate/ABS shell construction with a super-effective MIPS system. The result? It won't weigh down your adventurous spirit while packing in some serious safety. This MIPS system dissipates rotational forces during an impact, keeping your noggin' that extra bit safer.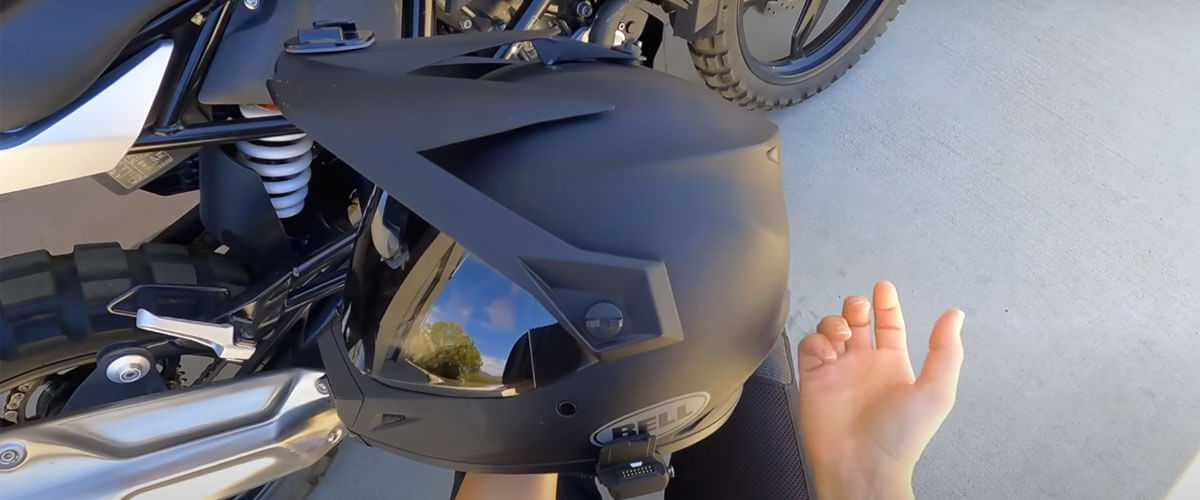 The MX-9 Adventure comes with a clear shield, perfect for cloudy days or late-night rides. However, it might feel a bit lacking for those sun-drenched days.
In the grand scheme of things, the Bell MX-9 Adventure MIPS is an all-terrain trooper. With this helmet, you'll be ready to tackle any adventure, be it on the highway or the dirt path, without breaking the bank.
Key specs
Head shape: intermediate oval.
Safety certification: DOT, ECE.
Shell sizes: XS-SM, MD, LG, XL-2XL.
Shell material: polycarbonate.
Weight, kg/lbs: 1.8/3.7.
Pros
Large and adjustable airflow vents for a comfortable ride.
Fits well and is generally true to size.
It includes interchangeable cheek pads for a customizable fit.
Extended side visibility improves safety during lane changes.
Cons
The helmet can be loud at higher speeds.
May not be comfortable for those with a long-oval head shape.
Scorpion EXO Covert X – half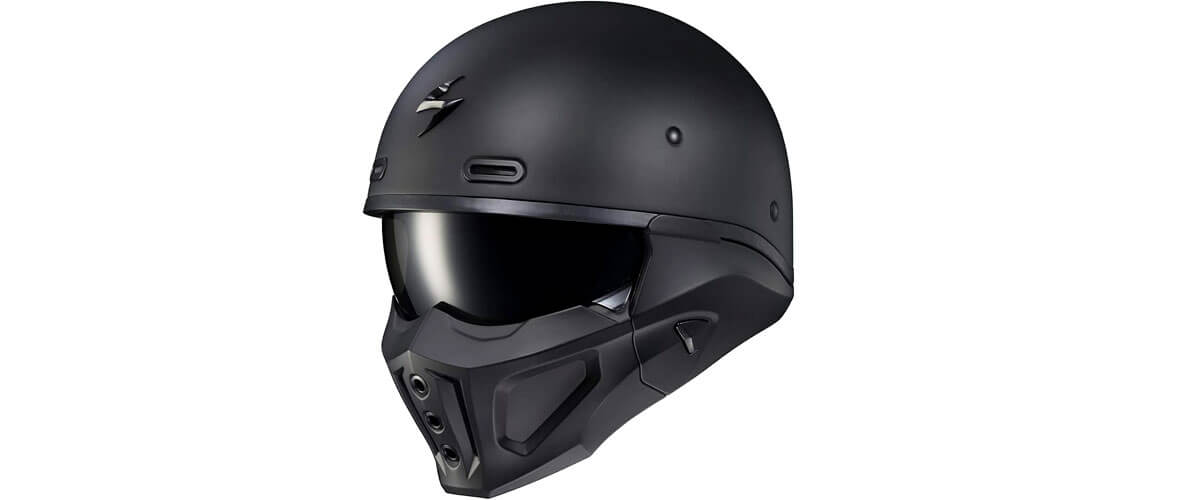 The Scorpion EXO Covert X makes an ideal companion for riders seeking a balance between freedom and protection. This half helmet blends the sense of liberation offered by open-face designs with the thoughtful safety considerations of full-face alternatives.
Constructed from a multi-layered TCT-Ultra shell comprising fiberglass, aramid, and poly-resin fibers, the Covert X is impressively light while delivering robust strength and efficient impact dispersal. Additionally, its advanced multi-layer EPS enhances energy absorption and increases airflow, contributing to a more comfortable ride.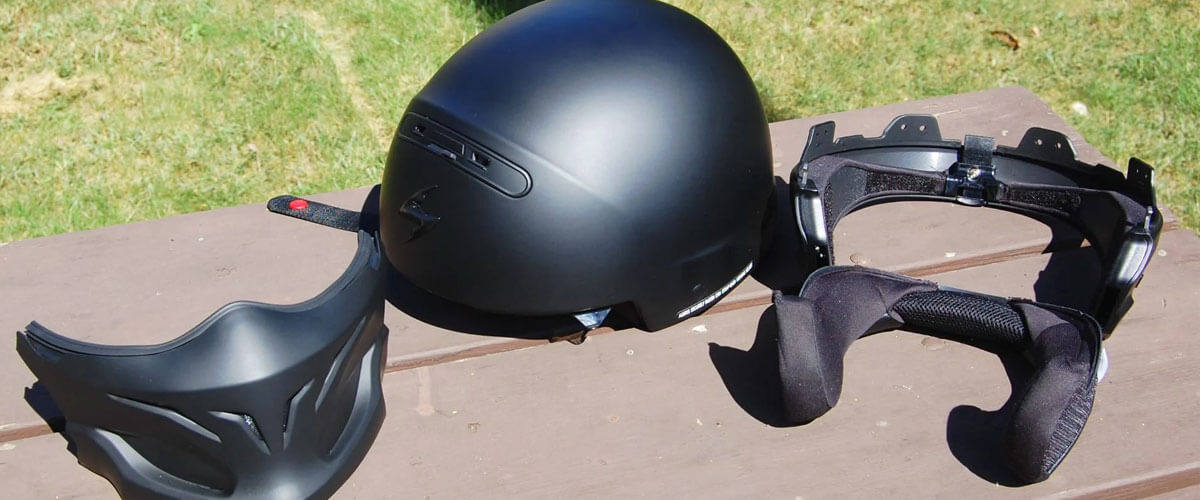 Arguably the standout feature of the Covert X is its versatility. With its unique multi-configuration design, riders can switch between half mode, ¾ mode, and mask-on mode, adapting to various weather conditions and riding preferences. Even in colder climates, this helmet shows its thoughtfulness with the inclusion of cold-weather ear covers.
The Scorpion EXO Covert X offers an effective compromise between comfort, versatility, and safety. Ideal for urban and casual riders, it provides a sense of openness without neglecting important safety aspects. It's a helmet that truly understands the needs of its rider.
Key specs
Head shape: intermediate oval.
Safety certification: DOT.
Shell sizes: XS-SM, MD, LG, XL-3XL.
Shell material: polycarbonate.
Weight, kg/lbs: 1.34/2.41.
Pros
Lightweight yet strong due to the multi-layered TCT-Ultra shell.
Multiple riding configurations enhance versatility.
Comfortable even in cold weather with ear covers.
Integrated speaker pockets for Bluetooth communication system.
Cons
Provides less protection compared to full-face or modular helmets.
Not ideal for off-road use.
How to choose a beginner motorcycle helmet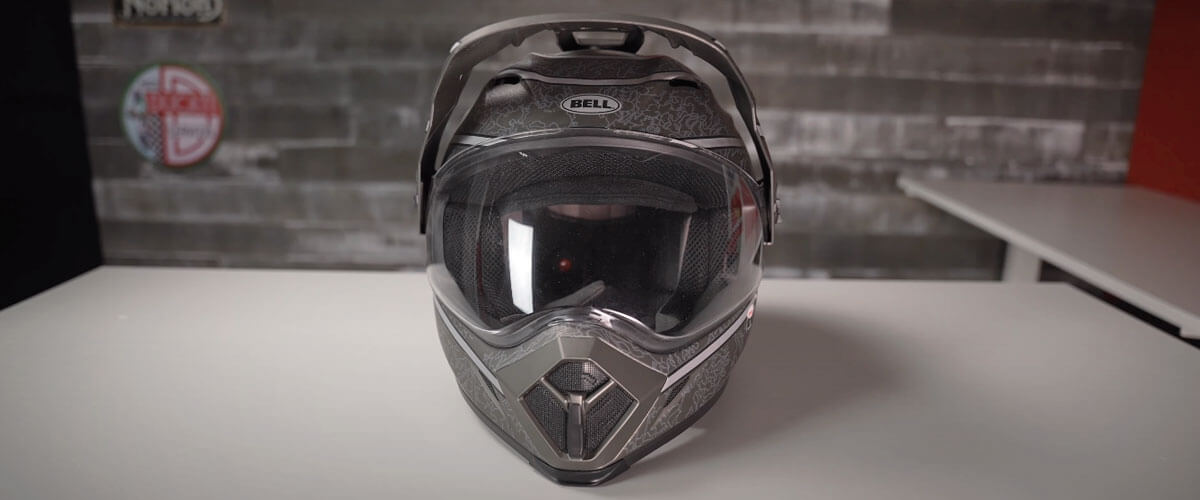 Choosing a good beginner motorcycle helmet is paramount for your safety and comfort on the road, so now I will go over some key points to consider.
Size and fit. The right helmet is not only a guarantee of your safety but also of your comfort. It must fit snugly and shouldn't move or slide on your head. To measure your head size, use a cloth tape to measure the circumference about an inch above your eyebrows.
Security ratings. Look for helmets that meet recognized safety standards. In the United States, a DOT (Department of Transportation) certification is the minimum requirement. Additional certifications like Snell and ECE provide higher levels of security.
Riding style. Consider your riding style when selecting your first motorcycle helmet. Off-road riders might prefer motocross models, while road riders may opt for closed or modular helmets for better noise reduction and protection.
Material and design. I tried helmets made from various materials like polycarbonate, fiberglass composite, or carbon fiber. Different options affect weight, comfort, and safety. Protective headwear also has an inner liner of expanded polystyrene (EPS) to absorb impact.
Visibility and ventilation. Opt for a headgear with a clear visor for optimal visibility, and anti-fog properties can be helpful too. Ventilation is essential to keep you cool and prevent fogging.
Price vs. quality. Safety should never be compromised for cost. However, there are affordable helmets available for beginners that are just as good as more expensive models. Expensive variants may offer additional features or stylish designs, but they don't necessarily provide better protection.
Additional specifications. Do not forget about factors like weight, ease of use, availability of replacement parts, noise-canceling features, and compatibility with goggles or Bluetooth speakers.
Remember, your helmet is your best friend on the road. Take your time to find the quality helmet that fits well, meets safety standards, and suits your riding style. Ride safe and enjoy your motorcycle adventures!
FAQ
Can I wear glasses or sunglasses with my helmet?
Yes, wearing glasses or sunglasses with a helmet is generally possible. Many headgear models are designed with enough space to accommodate eyewear comfortably. However, I recommend ensuring a proper fit and compatibility. When trying on a helmet, I always wear glasses or sunglasses to ensure they don't interfere with the fit or stability of the helmet. Some helmets even feature specific provisions, such as grooves or channels, to hold eyewear securely.
Are more expensive helmets safer?
The cost of a helmet is not necessarily an indicator of its safety level. Helmet prices can vary based on factors such as brand reputation, materials used, features offered, and design aesthetics. It's important to look for helmets that meet or exceed safety standards, to ensure a baseline level of safety regardless of the helmet's price.
What type of helmet is best for beginners?
To choose a starter motorcycle helmet, I advise starting with a model that offers all-around protection and comfort. A well-fitting, multi-purpose helmet, such as a recreational or commuter helmet, is a great choice. To choose a good starter motorcycle for beginners, it's important to prioritize the helmet's fit above all else, ensuring it sits securely on your head without any uncomfortable pressure points.