Navigating the bustling streets astride a scooter is an experience that melds convenience with a touch of adventure. As a scooter rider, the freedom of gliding through cityscapes is truly unparalleled, but safety should always lead the way! This is where the significance of donning the right helmet comes into play.
Welcome to an exploration of the best scooter helmets for the 2023 season — a journey that intertwines my passion for riding a scooter with a commitment to safety and style.
Our pick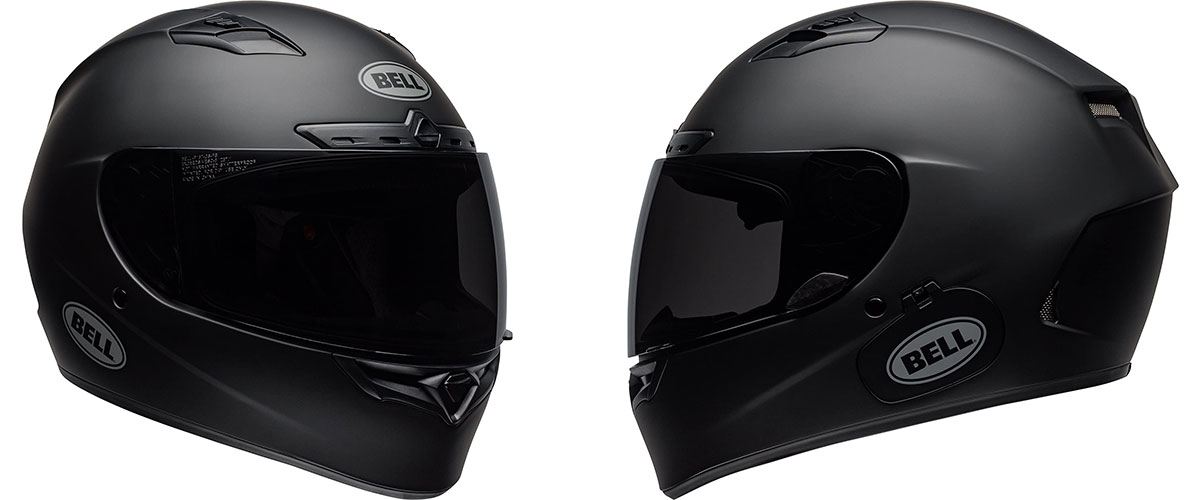 Bell Qualifier DLX MIPS
Best scooter helmet
The Bell Qualifier DLX Mips Helmet has a Transitions Adaptive Face Shield and boasts MIPS Directional Impact protection.
Read the full review
.
Best scooter helmet reviews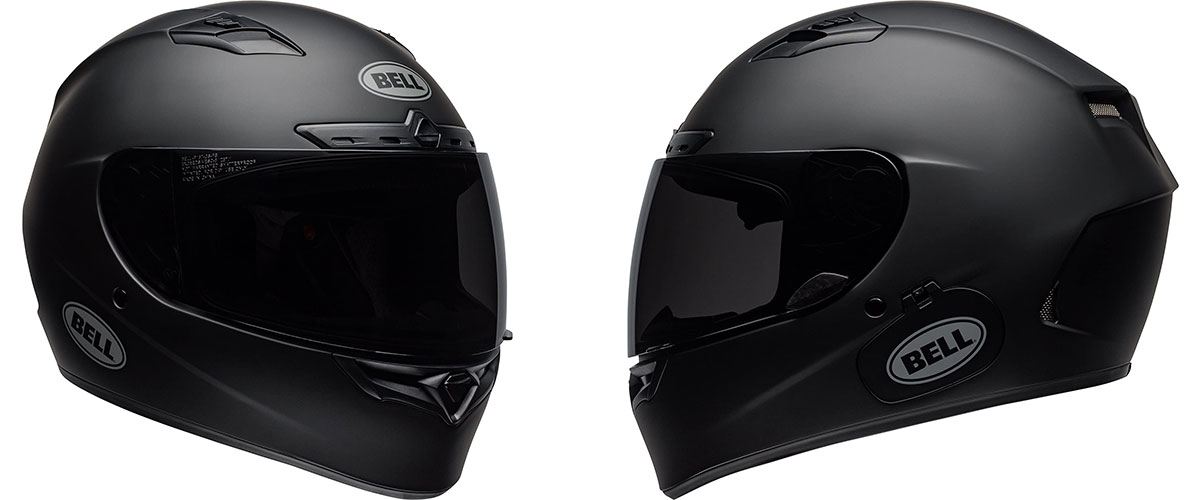 As a passionate person passionate about scooter riding, I've always emphasized safety without compromising style and comfort. To find the best scooter helmet, I tested dozens of different models and was rewarded. Bell Qualifier DLX MIPS has become my clear leader among many competitors offering a fantastic combination of innovation, adequate cost, and performance.
Starting with the materials and design of the helmet shell, the Qualifier DLX MIPS showcases impressive build quality. Its sturdy shell gives me a sense of confidence on the road. The integrated MIPS technology adds an extra layer of protection, effectively mitigating rotational forces during impacts. This level of detail is indeed reassuring. It is also impressively light, weighing about 3,6 pounds for size M.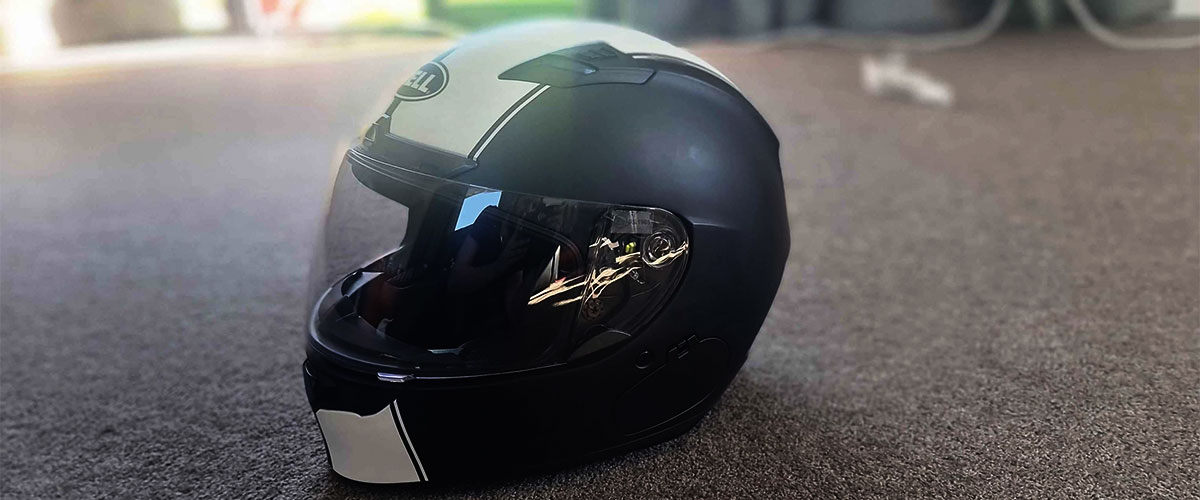 The face shield and visor of the Qualifier DLX MIPS stand out in terms of adaptability and convenience. This photochromic face shield helps to ride in varying light conditions. Whether I'm cruising under the sun or through dimly lit streets, the shield adjusts seamlessly, ensuring optimal visibility without distractions. Furthermore, the added anti-fog coating ensures visibility is never compromised, which is crucial when navigating busy streets.
Slipping into the helmet, the inner liner beckons comfort. The interior materials and design incorporate antimicrobial padding, which quickly wicks away sweat and controls odors. Even during extended rides on a sweltering day, the helmet remains fresh and comfortable, aligning perfectly with the needs of scooter riders seeking a sweat-free experience.
Speaking of safety, the Qualifier DLX MIPS boasts multiple safety certifications, including DOT and ECE, making it the perfect choice for riders who prioritize their well-being.
The Bell Qualifier DLX MIPS is the most valuable solution in today's market. Its robust materials, cutting-edge technology, comfortable interior, and innovative features encapsulate everything a discerning rider seeks. And all at a very reasonable price. As someone who values safety, style, and convenience while riding a scooter, I wholeheartedly recommend this helmet to fellow riders searching for their ideal gear.
Key specs
Head shape: intermediate oval.
Safety certification: DOT and ECE.
Shell sizes: XS-MD, LG-3XL.
Shell material: polycarbonate.
Weight, kg/lbs: 1.4/3.3.
Pros
Advanced safety with MIPS technology.
Integrated audio compartments for electronics.
Effective ventilation system for a sweat-free experience.
Reduced wind and road noise with a padded collar.
Cons
Limited Bluetooth integration that may require additional purchases.
Face shield replacements may be costly.
Biltwell Bonanza – budget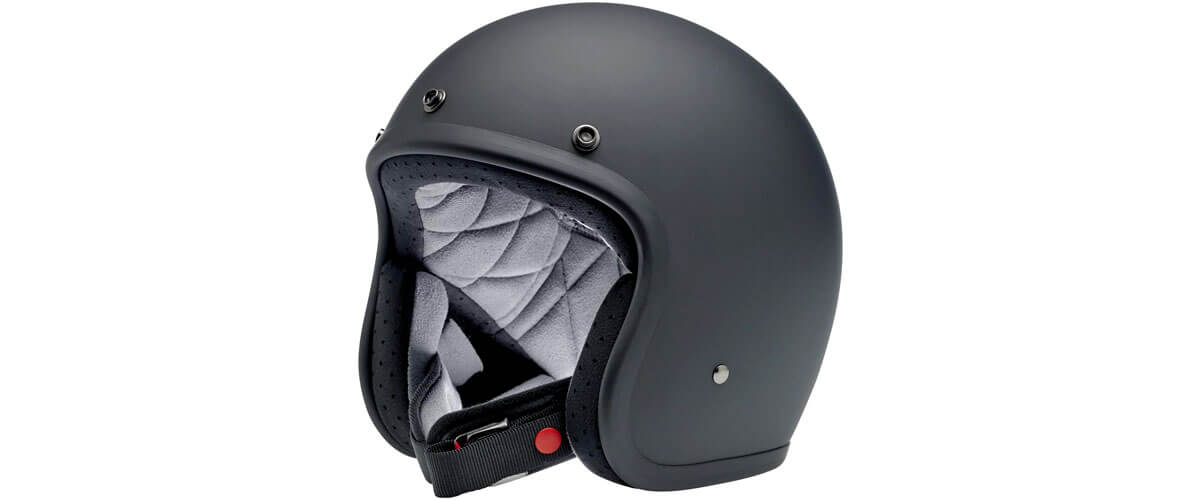 As a rider who relishes the freedom of the open road, finding the best helmet for scooter adventures has been an ongoing quest that brought me to the Biltwell Bonanza. Let's dive into what makes this one the perfect scooter helmet for riders seeking style, comfort, and safety on a budget.
Designed with finesse, the Bonanza boasts an injection-molded ABS outer shell. This intelligent fusion of ruggedness and lightweight design ensures comfort and reliability. The helmet's low-profile silhouette resonates well with the minimalist spirit of scooter culture, blending seamlessly with the aesthetics of two-wheeled exploration. In addition, it has a US DOT certification.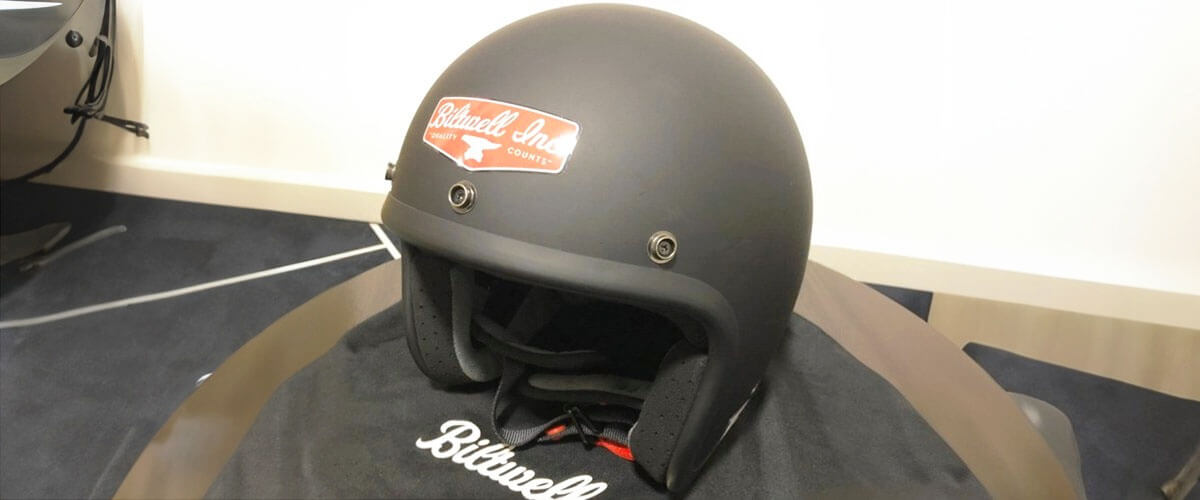 The Bonanza's adaptability shines through its snap-on brow, accommodating various Biltwell and select bubble shields, visors, and optical accessories. This feature grants control over the ride's look and functionality, enhancing style and safety. The comfort emanates from the custom-shaped EPS interior as you slip on the helmet. The removable and replaceable comfort liner and cheek pads are thoughtfully designed with brushed fleece Lycra touch points, which is a fantastic addition considering the budget.
The Bonanza also delivers a well-engineered system that ensures ample airflow. During my tests, it kept me cool on those sun-soaked rides while riding a scooter.
In conclusion, the Biltwell Bonanza Helmet is the right helmet for scooter riders who have a limited budget but don't want to compromise on safety and comfort. Yes, of course, it is inferior to more expensive models in a number of indicators, but in general, it is quite a good option.
Key specs
Head shape: intermediate oval.
Safety certification: DOT.
Shell sizes: XS-SM, MD-LG, XL-2XL.
Shell material: expanded polystyrene.
Weight, kg/lbs: 1/2.4.
Pros
US DOT-certified safety for confident riding.
Lightweight, comfortable design for extended journeys.
Removable liner and cheek pads for easy maintenance.
A rich line of accessories.
Cons
Limited color options for personal preference.
Modest shield variety and coverage compared to full-face helmets.
Minimal integrated features like Bluetooth communication.
Shoei RF-SR – premium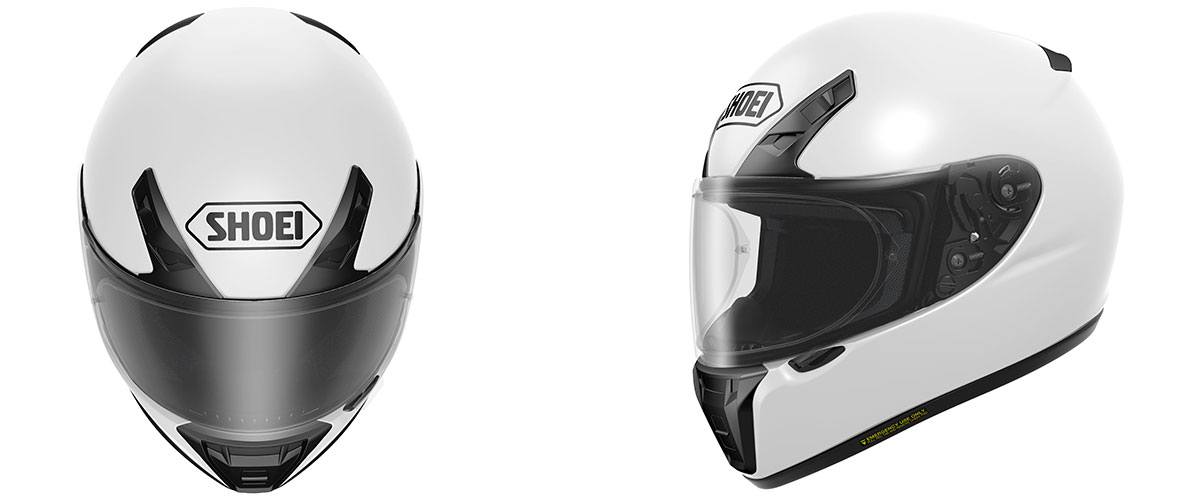 My next "guest" is the exact opposite of the previous model. Shoei RF-SR is a truly premium scooter helmet for people who value comfort and quality. The Shoei RF-SR is designed for riders who seek more than just the basics, as it embodies sophistication and innovation. The helmet's materials and design immediately caught my attention when I saw it. I appreciate the careful balance between protection and comfort that the RF-SR delivers. Definitely top-notch.
Now, let's talk about the face shield and visor. The RF-SR's shield system offers a panoramic field of vision akin to riding without a helmet. This wider perspective enhances the sense of freedom while keeping safety at the forefront. The shield system's innovative ribs ensure durability and rigidity, eliminating concerns about bending or distortion. Also, swapping shields has never been easier, thanks to the QR-E Base Plate System.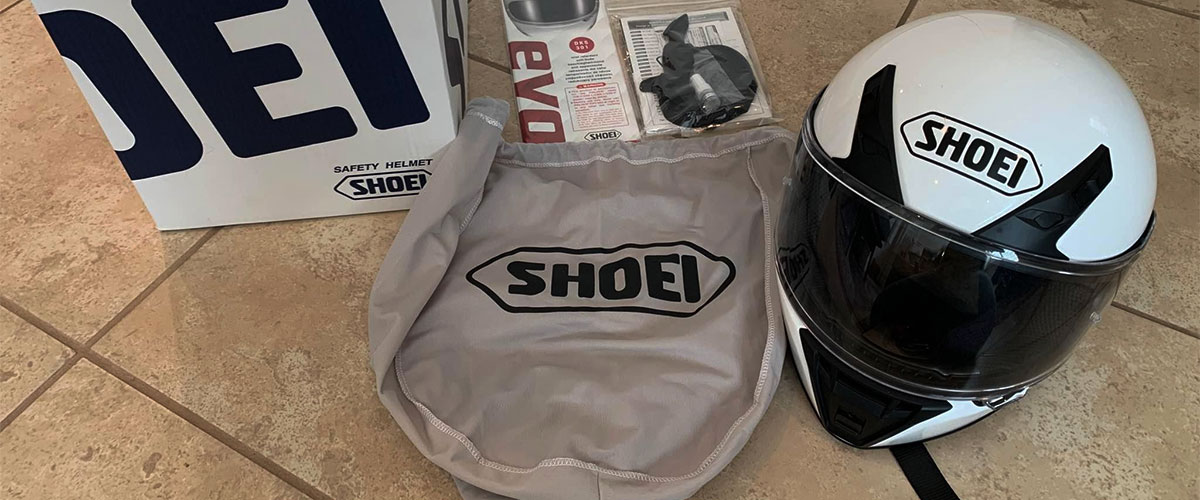 Slipping into the RF-SR feels like stepping into a realm of comfort. The interior, with its fully removable, washable, and adjustable components, provides a snug fit that's essential for high-speed riding. The liner's design is carefully thought out, contributing to maximum helmet stabilization while reducing wind noise — a blessing when navigating bustling streets or open highways.
The ventilation system of the RF-SR is where technology and comfort unite again. Fine-tuned in SHOEI's wind tunnel, this helmet offers adjustable air intakes and exhaust outlets that allow you to tailor airflow to your preference. I was especially delighted that the RF-SR effectively balances airflow and noise reduction.
Yes, the Shoei RF-SR could be called the best moped helmet, but when making a final decision, I always focus on value for money. Of course, Shoei RF-SR is a modern, comfortable, and safe helmet, but it loses to the leader regarding price/quality balance. But if your budget allows, this model will enable you to stand out on the road and feel as protected as possible.
Key specs
Head shape: intermediate oval.
Safety certification: DOT, SNELL M2020.
Shell sizes: XS-SM, MD-LG, XL-2XL.
Shell material: polycarbonate.
Weight, kg/lbs: 1.7/3.6.
Pros
Streamlined function for experienced riders.
Premium AIM+ shell: strong yet lightweight and durable.
Aerodynamic design enhances efficiency and comfort.
Bluetooth integration and support for modern connectivity options.
Cons
Premium features require additional pricing.
Limited communication integration options.
Balanced weight, but not ultralight.
Bell Mag 9 – also great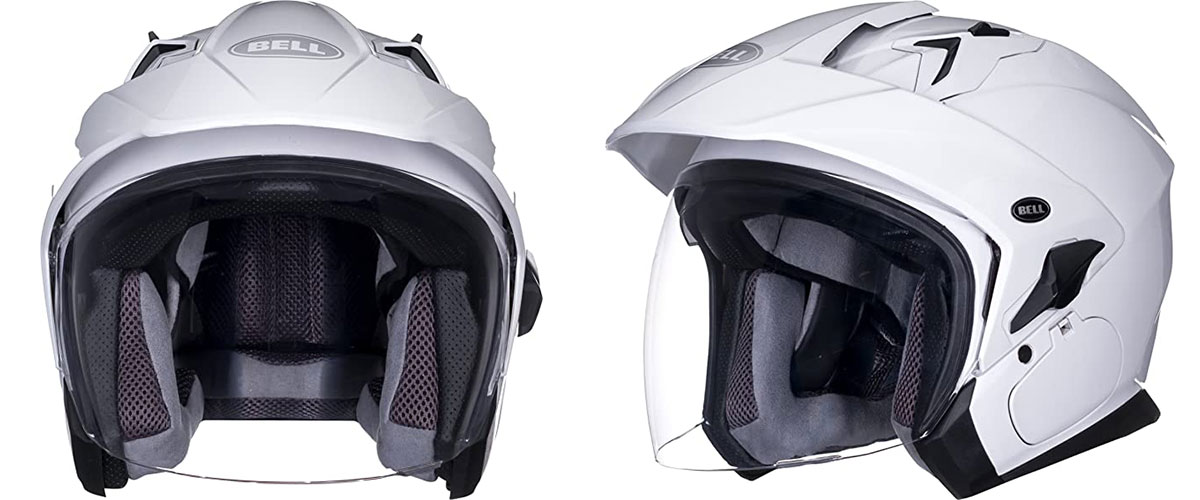 I want to share with you another interesting model — Bell Mag 9. This helmet struck my interest, and it had every chance to be the leader of my top. But the harsh reality picked otherwise, and here is why.
The Mag-9 offers a 3/4 styling perfect for riders who appreciate form and function. Its feature-rich design has modern options, making it suitable for various riding scenarios. Having several exchangeable and flexible visors, the Mag-9 is ready to adapt to any road you travel. This helmet weighs approximately 3.26 pounds.
The drop-down sun shield feature provides on-the-fly protection from the sun. This feature is handy when shielding your eyes from glare without stopping and changing visors. The helmet's construction allows for multiple configurations, allowing you to use it with or without the shield and visor. This customization ensures you're prepared for different weather conditions and lighting. Additionally, the tool-free shield changes make swapping out visors a breeze.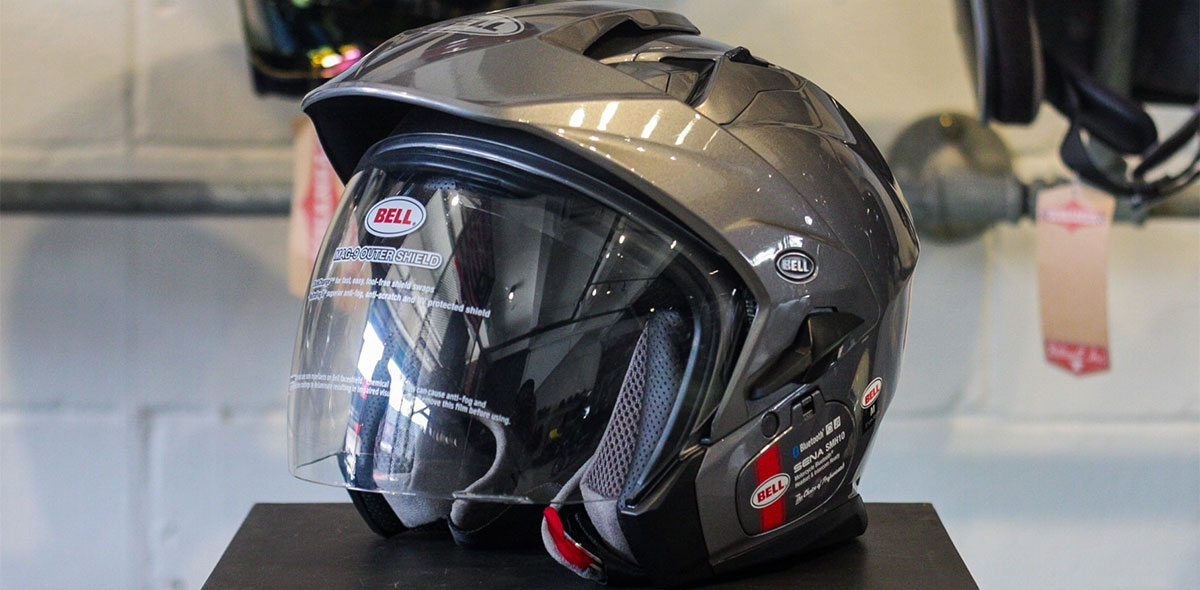 So, talking about hot summer days, the Velocity Flow Ventilation System ensures maximum cooling, which is crucial for maintaining comfort during long rides, particularly in warmer weather. On the comfort side, the Mag-9 comes with three EPS sizes, providing maximum comfort and size range.
The helmet works with specific audio equipment and intercom systems, which may be uncomfortable. This integration enhances communication and navigation capabilities while keeping you connected on the road.
In conclusion, the Bell Mag-9 embodies the qualities of a perfect scooter helmet. Its superior design, versatile features, and exceptional safety credentials make it a true companion for city explorers. Yes, it didn't reach the first place a little, but I can't omit the blend of style, safety, and tech capabilities that cater to the modern rider's needs, making every ride an experience of freedom and comfort.
Key specs
Head shape: intermediate oval.
Safety certification: DOT.
Shell sizes: XS-SM, MD, LG, XL-2XL.
Shell material: polycarbonate.
Weight, kg/lbs: 1.5/3.3.
Pros
Versatile 3/4 styling for year-round riding.
Customizable visor options for changing conditions.
Quick tool-free shield changes for convenience.
Effective velocity flow ventilation system keeps you cool and saves from the elements.
Cons
Limited DOT certification.
I would like to see wider and more universal support for electronics.
Additional accessories might be necessary for personalized use.
LS2 Rebellion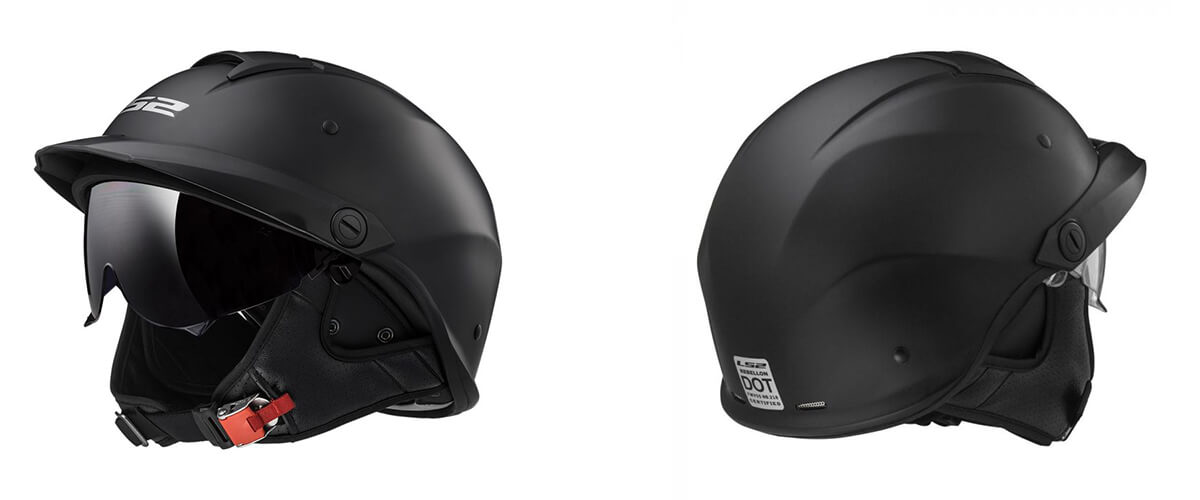 Finally, closing my review comes the LS2 Rebellion, as this model also stands out as an exciting solution that combines style, innovation, and safety. When I was preparing my review and choosing products for more thorough testing, the Rebellion caught my eye, and after putting it through its paces, I was excited to share my experience.
The Rebellion's design is a harmonious blend of retro-cool and modern tech, making it a true head-turner. Made from LS2's lightweight Kinetic Polymer Alloy (KPA), the helmet's shell boasts a state-of-the-art energy management system. The shell design, resistant to roll-offs, adds a layer of safety that scooter riders can truly appreciate. The Rebellion's weight is impressively featherlight for a helmet of its caliber, coming in at just approximately 2.09 pounds for a medium size.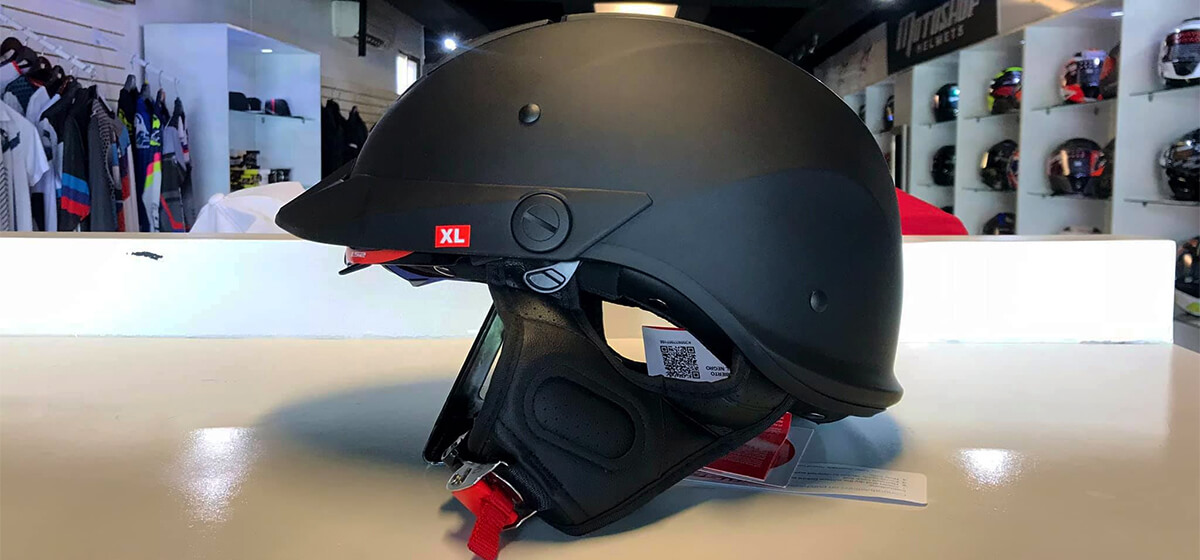 One of my standout features was the built-in two-stage drop-down sun shield. This scratch and UV-resistant shield offers protection from the sun and enhances visibility during bright rides. The helmet's short peak adds a touch of style while further safeguarding your eyes from glare. Inside, the highest quality removable liner made from technical fabric proved to be exceptionally comfortable and moisture-wicking, ensuring a relaxed ride even on scorching days.
The Rebellion's fully adjustable, multi-port, dynamic ventilation system impressed me and reminded me of the Bell Qualifier DLX MIPS. The strategically placed vents and ported EPS work harmoniously to keep air flowing, allowing me to stay cool and focused during my rides.
Safety is non-negotiable, and the Rebellion doesn't disappoint. With DOT FMVSS 218 certification, this helmet meets the highest safety standards.
In conclusion, my experience with the LS2 Rebellion helmet has been nothing short of amazing! Its innovative materials, superior design, and safety features make it the ideal companion for scooter riders seeking a balance of style, comfort, and protection.
Key specs
Head shape: intermediate oval.
Safety certification: DOT.
Shell sizes: XS-LG, XL-2XL.
Shell material: KPA (Kinetic Polymer Alloy).
Weight, kg/lbs: 0.9/2.
Pros
Super-lightweight, flexible, energy-dispersing construction.
Retro-cool meets modern tech for a standout look.
Roll-off resistant, DOT certified, emergency release cheek pads.
Scratch-resistant, adjustable shading allows for truly clear vision.
Cons
Predominantly matte and gloss black choices.
The transition between shading levels requires practice.
Lacks Bluetooth integration.
Factors to consider when buying a scooter helmet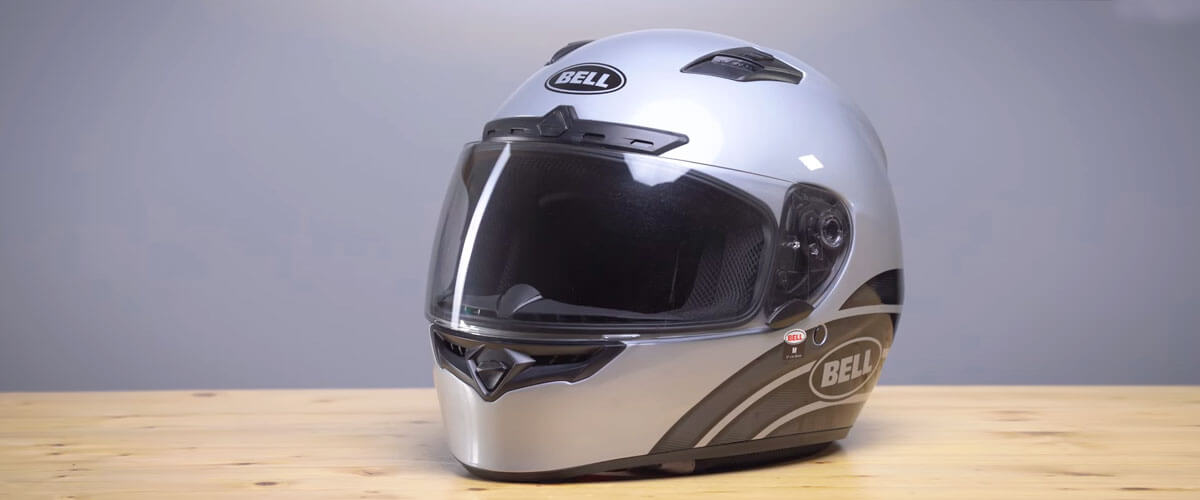 As a seasoned rider and helmet expert, I'm here to help you make an informed decision. Now, we'll discuss the different types of helmets for moped or scooter you'll encounter so that you can find the perfect one for your needs.
Types of scooter helmets
Full-face helmets: These bad boys offer comprehensive coverage, protecting not just your head but your entire face as well. One of the significant advantages of a full-face helmet is the unparalleled safety it provides. In case of an accident, your head and face will be shielded from impact and road debris. However, they may not be the best choice for scorching hot weather, as the full coverage can lead to a bit of discomfort and heat buildup.
Open-face helmets: These models, often referred to as 3/4 helmets, cover the top, sides, and back of your head, leaving your face exposed. They offer more ventilation, making them ideal for warm weather, and provide a wide field of vision, giving you an open and unrestricted feeling as you ride. Keep in mind, though, that the exposed face means it won't offer the same level of protection as a full-face helmet.
Half helmets: As the name suggests, these moped helmets only cover the top of your head, leaving your face and often your ears exposed. They are a suitable choice when you need basic head protection but don't want to feel enclosed. Their small size also makes them easy to carry around when not in use. However, I should notice that half helmets offer minimal protection compared to the other types.
Safety standards and certifications
First and foremost, look for helmets that meet recognized safety standards like those set by the Department of Transportation (DOT) and the Snell Memorial Foundation. DOT standards evaluate factors like impact resistance, penetration resistance, and helmet retention, making sure they can handle real-world accidents. On the other hand, Snell standards are even more stringent, assessing the helmet's performance under extreme conditions. By the way, I would like to mention that most Vespa helmets not only have an unusual and stylish design but also generally meet the recognized safety standards set by various international organizations such as ECE (Economic Commission for Europe).
Fit and size
To find the perfect fit, measure your head circumference just above your eyebrows and ears with a soft tape measure. Match the measurement to the helmet sizing chart provided by the manufacturer to get the right size.
Now, let's talk about helmet shapes. Helmets for scooter riders come in three main shapes: round oval, intermediate oval, and long oval. Each caters to different heads, so make sure you try on various types to find the best match.
Using a poorly fitted helmet can have serious consequences. It compromises safety by reducing protection in case of an accident. Moreover, an ill-fitting helmet can lead to discomfort, causing distractions during your joyful rides.
Material and construction
When it comes to materials, you'll encounter three main types: polycarbonate, composite, and carbon fiber. Polycarbonate helmets are budget-friendly and lightweight, but they may lack the durability of other options. Composites strike a balance between price and strength, offering good protection. However, if you're after top-notch performance, consider carbon fiber helmets, which are incredibly strong and light but may come with a higher price tag.
The choice of material impacts the helmet's durability, weight, and safety, so pick one that aligns with your needs and budget. Additionally, don't forget about the inner lining material. Opt for comfortable padding that allows for sweat absorption, ensuring a more pleasant riding experience.
Comfort and ventilation
Proper ventilation keeps your head cool, preventing discomfort and fatigue. Look for helmets with advanced airflow systems, like adjustable vents or exhaust ports, to circulate fresh air and expel heat.
But that's not all! Comfort is key for an enjoyable ride. Opt for helmets with a plush padding that snugly fits your head without pressure points. Lighter helmets reduce strain on your neck, ensuring a smooth journey. Remember, the right combination of ventilation and comfort will make every ride a breeze!
Visor and sun shield features
When it comes to visor options, prioritize features like anti-fog and anti-scratch coatings, ensuring a clear view even during unpredictable weather. Don't forget UV protection for those long rides under the scorching sun. And for added versatility, consider helmets with switchable visors to adapt to changing light conditions effortlessly. Speaking of sunny days, opt for a helmet with a built-in sun shield! This nifty feature provides instant relief from glaring rays, ensuring a safer and more enjoyable ride in bright conditions.
Design and aesthetics
When choosing a helmet, the first thing to consider is its safety rating and fit. However, you don't have to compromise on looks either! Helmets now come in a variety of designs, colors, and graphics that allow you to showcase your personality and stand out on the road.
Opting for reflective or bright-colored helmets is a smart move as they enhance your visibility to other road users, especially during low-light conditions. You can combine safety with style effortlessly! Whether you prefer a sleek and minimalist design or a bold and eye-catching pattern, there's a cool scooter helmet out there that suits your taste.
FAQ
Should I wear a full-face helmet on a scooter?
Absolutely! Wearing a full-face helmet on a scooter is highly recommended. It offers the best protection for your head and face in case of an accident. Scooters, like motorcycles, can reach considerable speeds, and accidents can happen unexpectedly. A full-face helmet provides coverage not only for your head but also for your face, chin, and jaw, reducing the risk of serious injuries.
Is there a difference between a motorcycle and a scooter helmet?
Yes, there is a difference in design, styling, level of safety, and, of course, functionality. Because of the specifics of scooters (short trips in the city), many people choose specialized helmets with open faces. The speed of travel on such transport is usually not very high, and this design allows you to follow the traffic on the road more actively. However, as you realize, such helmets are less functional and less safe than their motorcycle counterparts.
Are bike helmets good for scooters?
Yes, there are some differences. While both are designed for two-wheeled rides, scooter helmets often offer additional features tailored to urban commuting. Scooter helmets tend to have more aerodynamic designs, suitable for lower speeds and city traffic. They may also come with built-in sun visors or better ventilation, enhancing comfort during short rides in urban environments.